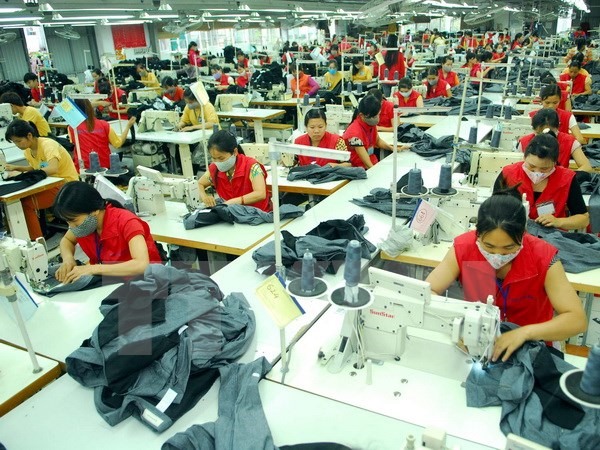 Viet Nam News
HÀ NỘI – The low added value of Vietnamese exported products despite the high export turnover is a huge concern for the country, those attending forum in Hà Nội on Thursday heard.
Việt Nam's exports have rapidly increased in the past few years. Last year, turnover was US$176 billion, an increase of nine per cent from the previous year.
Statistics from the Ministry of Industry and Trade revealed that total export turnover in the first quarter of this year reached nearly $44.5 billion, posting a year-on-year increase of 15 per cent.
Trần Thanh Hải, deputy head of the ministry's Import-Export Department, raised his concern about Vietnamese products' position in the value chain.
"Việt Nam's industrial production has not been a key chain globally," Hải said.
Nguyễn Văn Nam, director of the Institute for Brand and Competitiveness Strategy, gave an example about Việt Nam producing a lot of coffee; yet exporting at a price of only $2 per kilo while foreign importers sold it at $200 per kilo.
Nam said Việt Nam should pay attention to both export turnover and sustainable development factors.
"The commercial stage, including product consumption and sales, is very important to improve the value of exported products. If we continue to export in the old way of seeking a market after making the products, we would fail and be forced to sell products at low prices," he said, adding that unorganised trade promotion would affect both producers and consumers.
However, Võ Trí Thành, former deputy director of the Central Institute for Economic Management, said not all enterprises were involved in all stages of the value chain. Each firm needs to join in one or two stages but creates high added value.
"Enterprises should better implement what they have been doing by increasing productivity. Our research has revealed that if local firms change their management methods, productivity would rise by 10-15 per cent," Thành said.
Experts also believe special attention should be paid to the export of agricultural products in terms of policies and investments as Việt Nam has the advantage of diversified natural resources and abundant workforce.
In addition, the development of hi-tech agriculture would open new opportunities for the export of agricultural products.
The forum aimed at creating opportunity for businesses, policymakers and experts to discuss ways to increase Việt Nam's export value, developing markets and trade promotion. – VNS