(VOVworld)- The Song Hong Ensemble will perform two classical pieces by Mozart and Dvorak on November 19 at French Cultural Centre (L'Espace).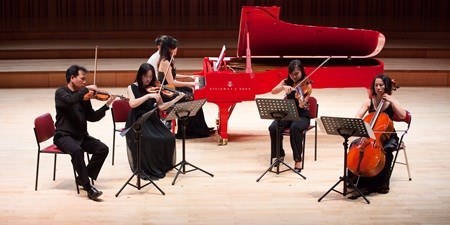 The ensemble will play Quintet for Clarinet and Strings, which is among 100 masterpieces composed by Mozart, for the first time. Dvorak's piece Piano Quartet and Strings will also be played in Vietnam for the first time.
"We choose Mozart's piece because it's beautiful and has pure melodies," violinist Pham Truong Son said.
"We have played Dvorak's Piano Quintet and Strings earlier. Now we want to play the Piano Quartet and Strings.
"It is rich and powerful, and has a very Viennese classical style. The music frequently changes character," the violinist said.
The concert will mark the first joint performance by the Song Hong Ensemble and talented clarinet Tran Khanh Quang.
Officially formed in 2009, the Song Hong Ensemble has been named one of the leading chamber ensembles in Vietnam. It has two violinists Pham Truong Son and Vu Thi Khanh Linh, viola player Ho Viet Khoa, cellist Dao Tuyet Trinh and pianist Pham Quynh Trang.
They are teachers at the Vietnam National Academy of Music and musicians of the Vietnam National Symphony and Orchestra.
The ensemble has built a comprehensive repertoire of critically acclaimed concerts. Its annual concert, entitled Spring, has been being performed in most large cities of Vietnam and overseas, such as in Thailand and China.
The Song Hong Ensemble received the Wes Benson scholarship to attend the iPalpiti Chamber Music Master Course in Los Angeles for one month last year. They were coached by Professor Eduard Schmieder and Martin Chalifour, concertmaster of the Los Angeles Philharmonic.
On this occasion, the ensemble had a concert at Beverly Hills.
This year, the Song Hong Ensemble has toured from Nanning, China, to Yogyakarta, Indonesia. In additional, the ensemble has performed at the Vietnam National Academy of Music's Grand Hall and many others in Hanoi.
"We will continue to have concerts in Vietnam and aim to have more concerts abroad. We wish to become one of the noted ensembles in Southeast Asia," violinist Son said.
The concert will begin at 8pm on November 19 at L'Espace, Hanoi.