(VOVworld) – US President Donald Trump's proposed cuts in US spending on UN programs have prompted concern at the world's largest organization.The Wall Street Journal reports that UN diplomats and officials have warned that Trump's decision risked hampering institutional reforms and leaving a financial void that will be difficult to fill.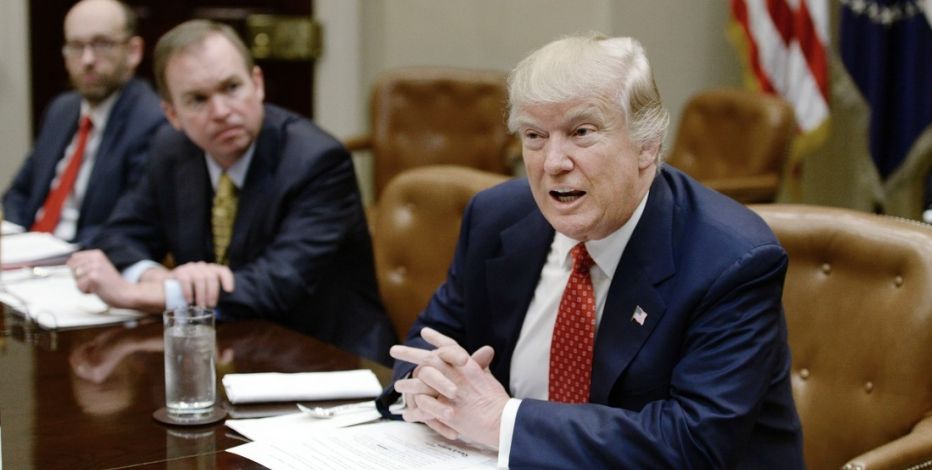 US President Donald Trump discusses the Federal budget in the White House on February 22, 2017 in Washington, DC. Credit: Olivier Douliery / Pool via CNP Photo
President Donald Trump has proposed a 28 per cent budget cut for diplomacy and foreign aid, which includes an unspecified reduction in financial support for the United Nations and its agencies, as well as enforcement of a 25 per cent cap on funding for peacekeeping operations.
After Trump's 2018 budget which slashes spending on UN peacekeeping and climate programs was revealed on Thursday, UN Secretary General Antonio Guterres said abrupt funding cuts can force the adoption of ad hoc measures that will undermine the impact of longer-term reform efforts.
Some UN members, deeply concerned by Trump's proposal, said that it's difficult to ask other powers to increase their financial contributions, given the slow economic growth in Asia, the devaluation of the Russian ruble due to Western sanctions, and Arab countries' decreasing revenues because of low oil prices.
Several diplomats at the UN Security Council said that the US's spending cut is gravely troublesome and may suggest that Washington would suspend involvement in multilateral mechanisms.
French UN Ambassador Francois Delattre said a strong United Nations and a US commitment to world affairs is needed "more than ever" as the world is experiencing unprecedented crises.
The United States is the biggest contributor to the United Nations, paying 22 per cent of the $5.4 billion core budget and 28.5 per cent of the $7.9 billion peacekeeping budget.