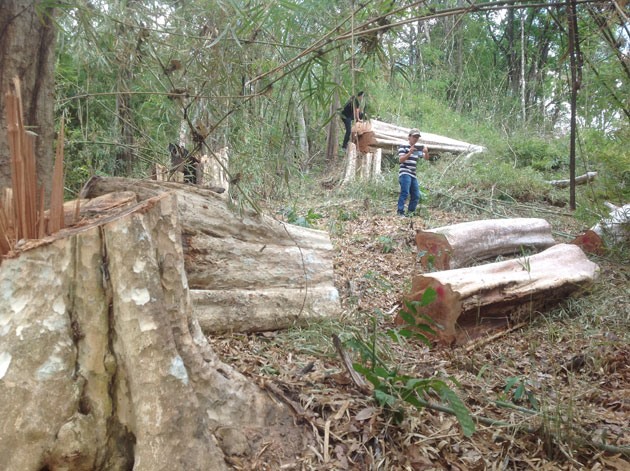 Viet Nam News
GIA LAI – Rangers and police in the Central Highlands province of Gia Lai intercepted an illegal logging and timber smuggling operation in a protected forest area at midnight on Sunday.
The Nhân Dân (People) newspaper reported that the smuggling was taking place in Ia Chía Commune of Ia Grai District in an area along the Pô Kô River, near the border with Cambodia, but well within Việt Nam's border patrol jurisdiction.
Local enforcement officials discovered a group of people transporting timber from the forest to the river's bank, where another group would tie the logs together into rafts then let them drift down the river to another location in the adjacent Đức Cơ District where they would be brought onto land and sold.
Lê Xuân Thành, 24, a resident of Ia Dom in Đức Cơ District, originally from Nghệ An Province, was the only person apprehended as the poachers escaped into the dense forest on seeing the patrol.
Eight lagerstroemia logs were found on the riverside. Another 28 logs, freshly chopped, were later discovered in the protected forest area in Ia Grai. A total of 8.4cu.m. of wood was seized.
The case is being investigated further.
Lagerstroemia, commonly referred to as crape myrtle, is a genus comprising around 50 deciduous and evergreen species of trees and shrubs. The timber of some of these is valued for making furniture. – VNS