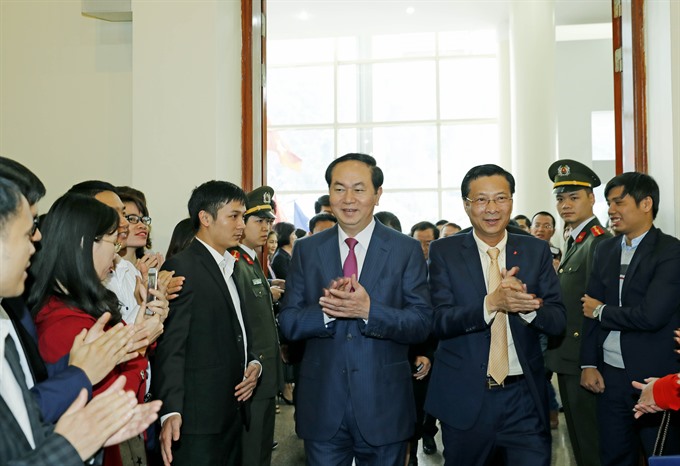 Viet Nam News
QUẢNG NINH – President Trần Đại Quang has called on people to plant trees, calling it vital for every country to simultaneously ensure economic growth and environmental protection.
He made the appeal on Thursday at the launch of a tree planting festival in the environmental recovery area of the Đèo Nai Coal Joint Stock Company, an affiliate of the Vietnam National Coal-Mineral Industries Holding Corporation Ltd in Cẩm Phả City, the northern province of Quảng Ninh.
In his speech, he mentioned the November 1959 Nhân dân (People) newspaper article entitled "Tree planting festival" written by then-President Hồ Chí Minh. The article analysed the importance of planting trees to the country and people and called for people's total engagement toward the work.
Since then, the tree planting festival has become a custom practiced whenever a new year comes. Tree planting and afforestation activities have been conducted in a widespread and effective manner and have greatly helped with environmental protection and socio-economic development in Việt Nam, President Quang said.
He described forest planting and protection as increasingly important amidst global climate change, adding that concrete and practical measures should be taken to prevent deforestation so as to fuel economic growth and improve people's living standards.
According to the Ministry of Agriculture and Rural Development, nearly 222,000ha of land nationwide is covered by forests, while US$7.3 billion worth of forest products were exported in 2016.
A number of mechanisms and policies combining forest protection with social welfare insurance were issued, thereby promoting forestry restructuring. Forestry was a big contributor to the expansion of the whole agricultural sector, the ministry reported.
Also on Thursday, President Quang visited a national relic site where late President Hồ Chí Minh visited workers of the Đèo Nai coal mining site on March 30, 1959.
The same day, Quang visited officials and civil servants of Quảng Ninh province on the occasion of the Lunar New Year.
He said as a province with a long borderline and coast, Quảng Ninh must pay special attention to reinforcing defence-security in order to firmly safeguard the national independence, sovereignty and territorial integrity. It needs to grasp thoroughly the Party and State's foreign policy to join neighbouring China in building a border of peace, friendship, co-operation and development. – VNS