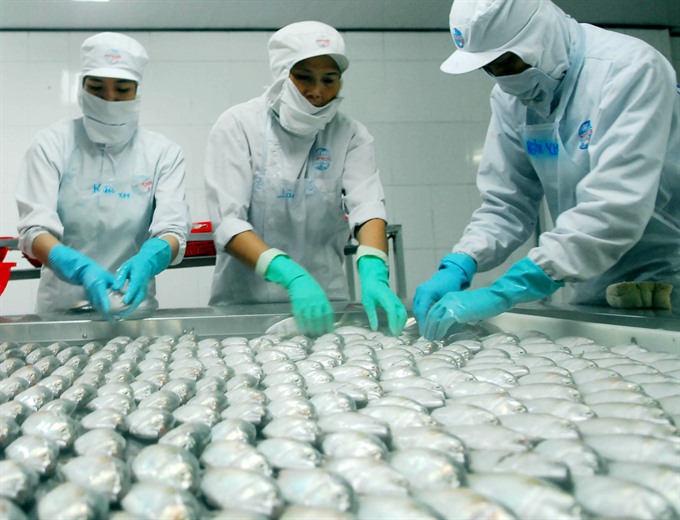 Viet Nam News
HCM CITY – Seafood exports are expected to increase by 5 per cent this year to around US$7.5 billion despite many possible hurdles, according to the Việt Nam Association of Seafood Producers and Exporters (Vasep).
Speaking at a review meeting held in HCM City on Thursday, Ngô Văn Ích, Vasep chairman, said early last year many difficulties plagued exports before increased global demand enabled a recovery.
Exports for the full year grew by 7.4 per cent to $7.05 billion, or 24 per cent of the country's total agricultural, forestry and fisheries exports, he said.
Shrimp and tra fish exports both rose by 7 per cent to $3.13 billion and $1.67 billion.
The exports went to 161 countries and territories last year, with the US, EU, Japan, South Korea and China being the largest buyers.
Trương Đình Hòe, Vasep's general secretary, said this year the seafood sector would continue to face difficulties, including a fall in fisheries output due to the impacts of climate change.
Import markets like the US, EU, Australia, and Japan are tightening hygiene and food safety norms for shrimp and applying regulations related to product origin, corporate social responsibility and others, he said.
Vietnamese exporters are also expected to face fiercer competition from seafood exporters in India, Indonesia, and Thailand, and the increase in minimum wage and a labour shortage are causing difficulties to seafood processors and exporters, he said.
"Despite difficulties, we believe seafood exports would increase by 5 per cent this year to $7.4 billion."
Exports to the US is expected to top $1.5 billion, an increase of 5 per cent, much less than last year's 11 per cent growth.
Due to political changes, the devaluation of the euro and slow market recovery in the EU, exports to the market would remain at last year's level of $1.2 billion, he said.
Exports to Japan would increase by around 4 per cent to more than $1 billion since the yen is appreciating, he said.
With an increase in income, demand for seafood products, especially sugpo prawn, has increased in China, but its domestic shrimp production has not increased, he said.
"China's demand for imported seafood, especially shrimp, increased strongly last year and the trend would continue," he said.
Việt Nam's exports to the market are expected to cross $1 billion this year compared to $829 million last year, he said.
Deputy Minister of Agriculture and Rural Development Vũ Văn Tám said some countries tend to erect technical barriers to limit imports to protect their domestic production.
Vietnamese businesses need to carefully study their target export markets to avoid risks, he added.
Nguyễn Ngô Vi Tâm, general director of Vĩnh Hoàn Co., Ltd, said to enhance competitiveness, seafood firms need comprehensive policy support with markets, funding, and developing reliable raw material sources.
Businesses at the meeting agreed that enhancing linkages from breeding to processing and export for both shrimps and tra fish is imperative to cut costs. – VNS