VietNamNet Bridge – Director Ken Ochiai of Japan has dreamed of making a film in Viet Nam after his first visit to the country on vacation years ago. His dream finally comes true with Ve Si Sai Gon (Sai Gon Bodyguard), an action-comedy film produced by CJ Entertainment of South Korea and TNA Entertainment of Viet Nam.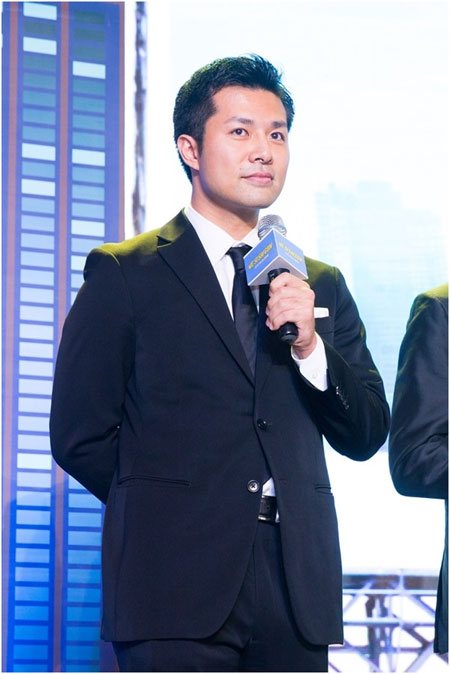 Director Ken Ochiai. — Photo courtesy of CJ Entertainment
Ochiai was born in 1983 and has made more than 30 short films, commercials and music videos, receiving many awards at international film festivals. Ochiai is now working as a professional writer/director and has a number of projects in development in Japan and the US. He talks with Minh Thu about his passion.
When did you start making films?
I made my first film at the age 12. It was a 75-minute-long action-comedy. It was an assignment that I had to do with my group. Since then, I have had a strong passion for making films. I find it a wonderful way in which I can express my ideas and thoughts, and turn my imagination into reality.
I was inspired by Hollywood films so I decided to leave Tokyo to pursue the dream of becoming a film director in the US. I graduated in production from the University of Southern California's School of Cinematic Arts in 2006. I made a promise to my father that I would study filmmaking at the best school in the world and incase I couldn't be a director, I would work as a lecturer. That's the reason why I continued studying at the American Film Institute Conservatory to achieve a master's degree. Fortunately, I became a director and received encouragement from audiences.
This is the first time you have worked on a film in Viet Nam. How did this project come about?
When I came to Viet Nam for the first time, I was charmed by the beautiful landscapes and the people here. I wished I would get the chance to come back, but at that time I didn't have an idea for a film. Three years ago, I met actor Kim Ly in Tokyo and we made friends. He called me in 2015 and told me about the Sai Gon Bodyguard project. I immediately agreed to direct it and now you have the film on screens.
Would you tell us about the film?
The new production released last month features a pair of bodyguards who are different in character but become partners to protect the young leader of a corporation. The film quickly gained success at home and abroad.
Vietnamese-American Michael Thai wrote the screenplay for the 90-minute film, which stars Thai Hoa and Kim Ly in leading roles. I call the relationship between the two bodyguards a "bromance", meaning a close friendship between two men. They are in each other's pockets. The differences and similarities between them bring amazing and humourous moments for the audience. I asked the actors to work with kung fu specialists for one month before filming. I wanted to bring audiences both comedic details and thrilling action takes.
You are the only foreigner working with a Vietnamese film crew. How did you find working with the cast?
Kim Ly is my friend, so working with him comes very easy. He doesn't only take the leading role but also works among film producers. He helped me a lot during the filmmaking process.
I haven't worked with a famous actor like Thai Hoa before. He's diligent and careful. He helped us change the dialogue to make them funnier. He's full of the power that inspires and motivates surrounding people. This is the first time he has participated in an action movie, so he took pains to perform the kung-fu scenes.
B Tran and Chi Pu are very promising. I wish I could have made the film longer to include more scenes with them.
Many Hollywood blockbusters are being released at the same time as Sai Gon Bodyguard, such as Sing, Rogue One and La La Land. Are you worried about the proceeds of Sai Gon Bodyguard?
I don't think much about the film's proceeds. I just care about the audience's emotions. When I sat in the cinema to watch people watching my film, I heard their laughs and felt their pleasure. I know that they enjoy the entertainment the film brings. That's enough for me.
What are your plans for promoting the film?
It's currently being screened nationwide and in eight other countries and territories including India, Nepal, Bangladesh, Sri Lanka, Maldives, Myanmar, Diego Garcia (the central Indian Ocean) and Butan. We are looking for distributors in the US, China and other markets. I will introduce the film in Japan and international film festivals for sure.
I think global audiences will be attracted by Viet Nam's landscape and culture, the friendship between the main characters, and the humanity of the film.
VNS