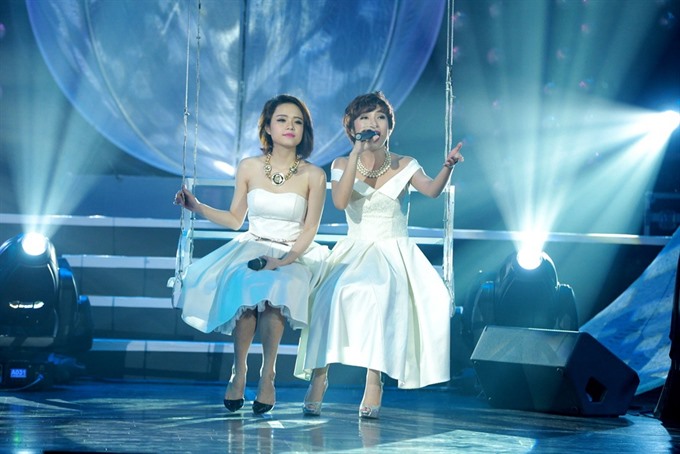 Viet Nam News
HCM CITY – Secretary of the HCM City Party Committee Đinh La Thăng and other city leaders on Thursday met with more than 300 delegates and artists who work in the theatre, film and arts field to discuss how the city can better support the arts.
"The city government will create stronger policies to support artists so we can keep our traditional culture and art alive among more than 10 million citizens here in HCM City," Thăng said, adding that artists play an important role in the city's development.
Delegates from art troupes asked the city government to spend more on upgrading and building theatres to meet the market's high demand.
People's Artist Trần Ngọc Giàu, Chairman of the HCM City Theatre Association, said that local authorities should spend more on theatres because "the industry has had increasing prosperity in recent years".
Outdated theatre systems owned by the Government represent one of the biggest challenges facing the theatre industry.
Dr Văn Thị Minh Hương, former director of the HCM City Music Conservatory, said: "We also need to improve our management after upgrading and building quality theatres with quality facilities and beautiful decoration."
During the meeting, Hương talked about a new project, the Centre of Training and Experimentation on Literature and Arts, which was created by the HCM City Union of Literature and Arts Association.
After its opening, the centre will offer training in theatre and arts for talented youth and organise entertainment events for the public.
The centre will also offer consulting services to local and foreign organisations in the industry, who want to invest in the city.
Painter Trần Thanh Cảnh, head of the Fine Arts Association's Club of Young Painters, said the main problem for art clubs and private art troupes was the lack of financial support from the city.
"To resolve the problem and attract investment to the sector, new policies on training, taxes and building theatres should be the top issues," he said.
Young writer Trần Nhã Thụy of the HCM City Writers Association asked the city to launch an award in literature and arts to discover talented young people.
Secretary Thăng said that the city authorities would consider the artists' proposals and do their best to improve the situation. – VNS