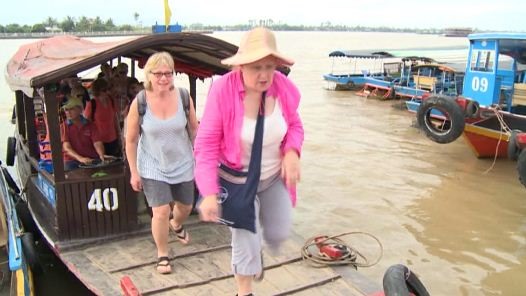 HCM CITY – Provinces and cities in the Southern Key Economic Region should strengthen their linkages to enable the region to capitalise on its development potential, a seminar heard in HCM City yesterday.
The region, which consists of a city and seven provinces – HCM City, Tây Ninh, Bình Phước, Bình Dương, Đồng Nai, Bà Rịa-Vũng Tàu, Long An and Tiền Giang — plays an important role in the country's economy, accounting for more than 42 per cent of GDP, 40 per cent of exports and more than 60 per cent of tax collections.
Nguyễn Thành Phong, chairman of the HCM City People's Committee and chairman of the Southern Key Economic Region Council for 2016, said the region was also the pioneer in industrial and services development, especially high-tech, electronics, oil and gas, tourism, telecom, finance and banking, commerce, and logistics.
In 2001-15 the region consistently grew at 1.5 times the national average, he said.
However, the development fell short of potential since the growth quality remains unsustainable while human resource quality is low, he said.
Beside, its infrastructure development has not kept pace with development, and there is a lack of co-operation between its component localities, he added.
Assoc Prof Dr Nguyễn Văn Phúc, principal of the HCM City Open University, said regional connections have been built over the last 10 years, but the linkages between localities in the region remain poor.
He blamed this on the lack of a strong and capable co-ordinating board that could assess the development potential of each locality and make a master development plan for the region as a whole.
Phong said the region council chairman's role stops with receiving feedback from member localities and submit to the Government.
The Government set up a steering committee for the development of the region with former Deputy Prime Minister Hoàng Trung Hải as its head.
But the committee has not convened any meeting so far while is head has moved to another position and no successor has been found.
Therefore, feedback from the region no longer reached the Government, he said.
Ngô Đông Hải, deputy head of the Party Central Committee's Commission for Economics, said "each locality is an independent financial body but assigned common targets such as ensuring growth in the economy, production and foreign investment, improving residents' lives and others."
This will mean overall development trumps local interests, he said.
Specific legal framework needed
Prof Dr Mai Hồng Quỳ, principal of the HCM City University of Law, said to enable the region to develop as it expects, the Government needs to have a specific legal framework for the region with specific policies related to land use and investment attraction.
She and many others urged the Government to increase localities' share of tax and other revenues to enable them to reinvest and develop.
The Government should allow the region to establish two finance companies to mobilise funds for its development, they said.
They also said the region should focus on improving training to supply to the market qualified workers meeting international standards.
Nguyễn Đình Trung, deputy director of Bà Rịa-Vũng Tàu Department of Planning and Investment, said the member localities should jointly suggest ways to the Government and relevant agencies to complete land, waterway, railway and air travel infrastructure in the region.
Đinh La Thăng, Secretary of the HCM City Party Committee, said a regional data centre should be established to make it easy for the region to research and support foreign investors.
In the long run, the Government should have suitable policies for developing the region into an open economic zone, he said.
It should review the master zoning and other plans of each locality in the region to avoid overlaps, he said.
It needs to adopt policies to strongly develop localities with great potential to create a momentum for others with less potential, Phong said.
China has such a policy, he added. – VNS