Transport firms urged to fight wildlife trade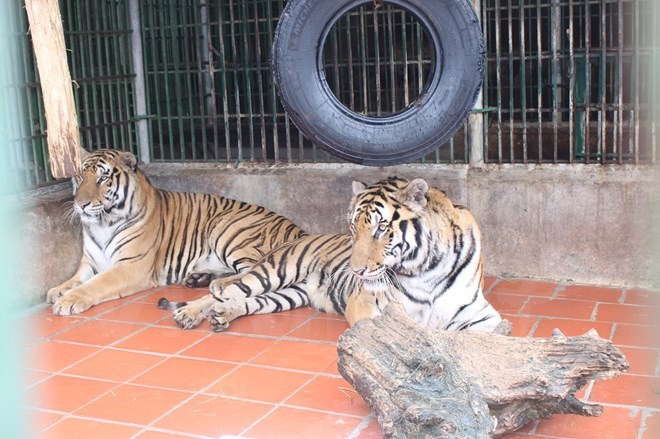 The transportation sector must work closely with law enforcement agencies to bolster the fight against wildlife crime and reduce demand for wildlife consumption, experts said at a two-day workshop that ended on August 12 in HCM City.
"This workshop will give key transport and logistic enterprises in Vietnam knowledge, resources and support so that they can minimise the reputational risk of being implicated in wildlife crime," said Madelon Willemsen, Head of TRAFFIC in Vietnam.
Over 80 participants from 33 logistic companies, including members from the Vietnam Association of Transportation and Automobiles, and government departments, including the Forest Protection Departments and Customs, learned about the importance of conservation and ways they can have the most impact to support conservation in their fields of work.
Participants were shown how they can protect their reputation by implementing corporate social responsibility policies and a code of conduct to integrate zero-tolerance towards the consumption of threatened wildlife.
The event was an important element of TRAFFIC's efforts in Vietnam to combat the illegal wildlife trade through partners such as Vietnam Chamber of Commerce and Industry (VCCI) to engage the private sector.
Workshop participants received training on the modus operandi of criminals trafficking endangered wildlife. Presentations were made by representatives from the Management Authority of CITES (the Convention on International Trade in Endangered Species of Wild Fauna and Flora) concerning national and international wildlife trade regulations. In addition, the Cu Chi Forest Protection Department provided insights into the species being rescued from illegal wildlife trade in Vietnam.
The sharing of each companies' experiences and knowledge on how to identify illegal shipments, and how to provide the means to integrate corporate social responsibility into their policies, provided a strong foundation for this sector to curtail the illegal wildlife trade.
A network of connections between enterprises and law enforcement agencies was created, facilitating opportunities for better information exchange that should result in more effective enforcement of the wildlife trade by authorities.
"Logistic and trade organizations are an important line of defence against the illegal trade of wildlife. We must engage these companies to ensure that they have the necessary tools to stop the flow of endangered species to, and within, the country," said Vuong Tien Manh, Deputy Director of Vietnam's CITES Management Authority.
The Chi social corporate responsibility toolkit developed by TRAFFIC provides guidance on how to integrate a zero-tolerance approach towards threatened wildlife consumption and combat the illegal wildlife trade in Vietnam's private sector and civil society organizations.
This workshop, a joint venture by TRAFFIC, the Vietnam CITES Management Authority and VCCI, is an important component of a three-year project, in partnership with WWF and funded by the French Development Agency.
Hospital in HCM City launches hi-tech dialysis centre
A high-tech hemodialysis centre was put into operation in Nguyen Tri Phuong Hospital, Ho Chi Minh City on August 12.
With 20 dialysis machines, the centre is expected to provide treatment for 50-60 patients a day.
All equipment, medicines, and the hemodialysis process used in the centre strictly satisfy Japanese standards, bringing the best treatment to patients with chronic kidney disease.
Initially, Japanese experts specialising in hemodialysis and kidney machine operation will work at the centre and concurrently give training to the hospital's doctors.
Director of the hospital Dr. Vo Duc Chien said his medical establishment was allowed to organise training courses related to nephrology and dialysis for doctors and nurses, and the centre is hoped to serve as a training establishment to international standards in the future.
In 2015-2016, the hospital worked with Japanese experts and the Ho Chi Minh City Hemodialysis Association to open training programmes in nephrology-hemodialysis for doctors and nurses in and outside the city, towards improving the quality of medical examination and treatment services.
Hà Nội health department launches online services
The Hà Nội Health Department on Monday launched its online administrative services at qlhanhnghekcb.gov.vn to issue practice permits to healthcare workers and business licences to healthcare stations.
Applicants can get the free registration forms for the services at the department's administrative request receipt office and its portal soyte.hanoi.gov.vn, and then submit it online to the department during working hours on all working days.
The department has also announced that its hotline numbers 0437343622 and 0439902390 will receive feedback about its administrative services.
Last week, the capital city also launched its website egov.hanoi.gov.vn, covering 12 districts, to provide public services such as registration of births, deaths and marriages, and certified copies of documents in Vietnamese.
Ho Chi Minh City reviews summer youth volunteer campaign
More than 147,000 students, teachers, soldiers and officers from Ho Chi Minh City joined a youth volunteering campaign during this summer, heard a ceremony to review the event on August 14.
They worked on various programmes including the, "Ky nghi hong" (Red Vacation), "Mua he xanh" (Green Summer), "Hoa phuong do" (Red Flamboyant) and "Hanh quan xanh" (Green Marching) programmes.
The drives were held in local districts and wards, concentrating in five outlying districts of the city, and in the central region, Central Highlands, the southeast and southwest, Kien Giang province's Tho Chu island and Laos.
Through the campaign, participants helped upgrade 45km of rural roads, build and repair 26 rural bridges and 217 houses, handed out gifts worth over 3 billion VND (136,000 USD) to more than 10,000 poor people and offered free medicine and health check-ups to more than 72,800 people.
They also helped build 40 bus stops, repaired electrical systems in 1,000 households and cleaned up around the Sai Gon river.
The ceremony was hosted by the municipal Ho Chi Minh Communist Youth Union, the municipal chapters of the Students' Association and the Vietnam Youth Federation.
Three students drown in Đắk Lắk reservoir
Three students drowned in a reservoir in Đắk Lắk Province's Ea Toh Commune on Saturday.
Trần Thị Nguyên, 10, Trần Đình Chiến, 8, and Lê Thị Trúc, 13, slipped and fell into the reservoir while playing and picking avocado fruit in the cultivated area of Lê Đình Thịnh, said Trúc's father. The three were residents of Ea Tóh Commune, Krông Năng District.
Authorised agencies rushed to the scene. The three bodies were handed over to their families.
Fire destroys wood workshop in Quảng Ninh
A fire broke out at a wood workshop in northern Quảng Ninh Province's Đường Hoa Commune yesterday, destroying 30 square metres of the workshop.
More than 20 cubic metres of wood and all the machines were burnt, causing damage estimated at more than VNĐ300 million (US$13,500).
The wood workshop belongs to Vũ Văn Xoa in Hải Hà District's Đường Hoa Commune.
Nearly 30 fire fighters and three fire trucks were mobilised to put out the fire.
Police are investigating the cause of the fire.
Design contest launched for banks of Han River
The central city has launched a contest on planning and architecture design of the Han River banks with an aim of creating landscape and beautiful scenery for local people and tourists.
The city's administration officially announced on August 14 that the contest will give Vietnamese and foreigners the chance to submit ideas for developing the Han River as an attraction in the future.
The 7.2km long river, which is sandwiched between the city's downtown and Son Tro peninsula, has been seen as a typical symbol of the central city and tourist industry as well as a famous brand of the city's products.
As scheduled, the contest organising committee has opened registration for contestants between August 1-12 before selecting the best 10 plans between August 12-15.
The organisers said contestants will start designing their ideas from August to October for the last mock-up competition on October 15th.
The city will also display the design winners in public for review on October 15-29.
In 2015, Jina designing company from the Republic of Korea was selected as a consultant for designing and planning of the river banks, but its architecture design was not satisfactory.
All designers can visit the website of the contest at hanriver.viar.gov.vn for further information.
In 2014, Son Tra Peninsula Strategic Vision Plan, which was designed by the US's Skidmore, Owings & Merrill LLP (SOM), was awarded the excellence prize from the American Institute of Architects (AIA).
Earlier this year, the Dragon Bridge, which spans the Han River, won the 2016 American Society of Civil Engineers (ASCE) Outstanding Civil Engineering Achievement Award.
The lighting design on the bridge also received the 'Best Citation' Award from the International Association of Lighting Designers (IALD) in 2014.-VNA
Vietnam joins ASEAN food festival in Macau
Vietnamese cuisine and agricultural products were showcased at the 17th ASEAN Food Festival that began in Macau (China) on August 13.
This is the second time Vietnamese products have been displayed at the annual event, which features food and culture from Southeast Asian nations.
Addressing the event, a representative from the Macao Government Tourism Office said ASEAN food and culture have helped promote the city's tourism.
The festival boosts solidarity among ASEAN people, developing a prosperous ASEAN Community, as well as promoting connectivity between ASEAN and Macau, the representative said.
Echoing the host official's view, Singaporean Consul General in Hong Kong and Macau Jacky Foo Kong Seng said ASEAN food has increased understanding of regional culture among Macau residents.
Vietnamese Deputy Consul General in Hong Kong and Macau Vu Chi Mai said there are many Vietnamese restaurants in the city.
Vinasoy kicks off nutrition programme for children
As many as 23,000 primary pupils will benefit from a nutrition programme launched by the Study Encouragement Fund of the Vietnam Soya Products Company (Vinasoy) during the first semester of 2016-2017 school year.
The programme was announced at a ceremony in the central province of Quang Ngai on August 15.
Entitled "Healthy nutrition for children's growth", the initiative aimed to increase health, physical strength and reduce malnutrition among children.
The programme will be implemented in seven provinces, including five northern provinces of Vinh Phuc, Hai Duong, Hung Yen, Yen Bai, Bac Giang and two central provinces – Thanh Hoa and Quang Ngai.
Accordingly, nearly 2 million 125 ml milk boxes will be provided free of charge for 23,000 pupils in participating provinces.
Besides, the programme will coordinate with localities' authorities to organise several helpful activities for children such as drawing competitions and tree planting.
On the occasion, Vinasoy presented 20 scholarships each worth 500,000 VND (22.5 USD) to outstanding and impoverished primary pupils in Quang Ngai.
Quang Tri: La Vang festival hosts over 50,000 pilgrims
Over 50,000 local and overseas parishioners have flocked to the La Vang Pilgrimage Festival which is underway at La Vang Church, Hai Lang district, central Quang Tri province.
Parishioners and tourists at the two-day event, on August 14-15, have participated to a range of religious activities and Catholic services, including prayers, confession, and a ritual procession.
The locality has deployed 600 parishioners to ensure public order, environmental protection and participants' health at the event.
The annual ritual event is held to commemorate a vision of the Blessed Virgin Mary.
Religious officials visit Supreme Patriarch on Vu lan festival
Representatives of the Government's Religious Affairs Committee paid a visit to Most Venerable Thich Pho Tue, Supreme Patriarch of the Vietnam Buddhist Sangha (VBS), on Vu lan (Ullambana) – a major Buddhist festival.
The Party and the State appreciate the VBS's enormous contributions to educating people on how to lead a good social life, especially maintaining virtues, Vice Chairman of the committee Duong Ngoc Tan said during the August 13 visit.
He asserted that Buddhism has had great influence on Vietnamese people.
He asked the VBS to continue upholding fine traditions and accompanying the country during the development process.
The Party and the State support the VBS's activities that help solidify the great national unity bloc and enhance social growth, he added.
Most Venerable Thich Pho Tue said Vu lan festival, which falls on the 15th day of the seventh lunar month (August 17 this year), is an occasion to express gratitude to parents, teachers, the nation and the Three Refuges.
It also marks the end of the three-month summer retreat, which lasts from the 15th of the fourth lunar month to the 15th of the seventh lunar month. On that day, monks and nuns who reside in one place and devote themselves to their practice during the retreat will become one year older in the Order, he noted.
The Supreme Patriarch said he will continue leading the VBS in its practice to bring about peace and happiness for people.
Vietnam is now home to more than 48,000 Buddhist monks and nuns who are practicing the religion in over 17,000 Buddhist worshipping sites with each receiving up to 1,000 followers annually.
According to the 2009 general census, Vietnam had more than 6.8 million Buddhist followers.
Hanoi Health Department launches online services
The Hanoi Department of Health is to officially provide its online administrative services through website http://qlhanhnghekcb.gov.vn on August 15 to issue practising permits for health workers and business licences to health care stations.
Registration forms for the services are offered for free at the department's administrative request receipt office and its online portal at soyte.hanoi.gov.vn, then submitted to the department via Internet within working hours in all working days.
The department has also announced its hotline numbers at 0437343622 and 0439902390 to receive feedback on its administrative services.
Earlier on August 10, the capital city also launch its website egov.hanoi.gov.vn covering 12 districts to provide public services such as registering a birth, death or marriage, and certifying copied documents in Vietnamese.
Gia Lai: Project helps locals escape from poverty
Poor residents in the Central Highlands province of Gia Lai have been benefited from a poverty reduction project which has been implemented in the locality over the last two years.
Notably, measures to improve the livelihoods and living conditions for poor locals, especially those from ethnic minority groups, in the period proven effective, making it easy for the locals to promote sustainable production and improving their living conditions.
Statistic of the local authorities revealed that the number of households benefited from the project rose to 6,000 in mid-2016 compared to 2,000 households in 2015.
Locals have been assisted in expanding cultivation of traditional crops such as hybrid corn and rice, and sugar-cane as well as others like ginger and green bean.
Beginning from 2014, the five-year project on poverty reduction for the Central Highlands region is being implemented with a total investment of 165 million USD sourced from the World Bank.
It aims to better living standards through improving livelihood in poor communes.
Infrastructure facilities in the locality have been upgraded and developed, towards serving production.
The project also focuses on helping local residents get access to public services, while training managers at all levels to be able to perform the project well.
According to Director of the provincial Department of Planning and Investment Ho Phuoc Thanh, who is also Director of the project's management board in Gia Lai, the project helped poor residents, especially ethnic minority people, escape from the poverty as they have been provided with knowledge and ways of doing business.
In the coming time, campaigns will be held to call for the participation of more households in the project, he said.
Over 8 trillion VND to build Dau Giay – Tan Phu expressway
More than 8 trillion VND (360 million USD) will be invested to build the first phase of Dau Giay – Tan Phu expressway in the southern province of Dong Nai.
Deputy Minister of Transport Nguyen Ngoc Dong has approved the proposal on the first phase of the project under the build-operate-transfer (BOT) model as part of the 200 km Dau Giay – Lien Khuong highway.
The Dau Giay-Tan Phu route will be 59.6 km long and 17m wide running through Thong Nhat, Dinh Quan, Xuan Loc and Tan Phu districts in Dong Nai.
It is designed with four lanes and allows vehicles to run at a maximum speed of 80 km per hour.
It will be expanded to 24.7 m wide in the second phase, when the allowed speeds will go up to 100-120 km per hour, with a total investment of over 6.88 trillion VND (309.6 million USD).
After being approved by the Ministry of Transport, the project will start construction in the first quarter of 2017 and be completed in about three years.
The building of the Dau Giay – Tan Phu expressway is significant as it will connect with the Ho Chi Minh City – Long Thanh – Dau Giay and Bien Hoa – Ba Ria-Vung Tau highways, thus facilitating transport connectivity between Lam Dong and Dong Nai provinces and HCM City and Ba Ria-Vung Tau province.
It also helps to boost socio-economic development in key economic zones in the south and Central Highlands as well as in economic, social and industrial hubs along National Highway 20 linking Lam Dong to HCM City and southeastern provinces.
Policy dialogue draws youngsters
A dialogue on policies for youngsters was held in Hanoi on August 12 as part of a meeting in response to International Youth Day.
The event was jointly organised by the Ministry of Home Affairs and the United Nations (UN) at the Green One UN House.
Young people are considered active contributors to the implementation of the national agenda programme on sustainable development through 2030, participants said.
They however, noted that young people's ideas and viewpoints have not been seriously recognised, which does not benefit the young while wasting their creativity and potentials, thus affecting the building of a better future for all.
Director of the Department of Youth Affairs under the Ministry of Home Affairs Vu Dang Minh said it is necessary to listen to young people's opinions and empower them by creating opportunities for the young to demonstrate their ability and contribute to the country.
UN Resident Coordinator in Vietnam Pratibha Mehta said the sustainable development goals are for future generations, so it is important to comprehend their viewpoints.
Young people should be enabled to engage in policy making as well as inspect its process, she said, recommending the elimination of preconceptions about age and gender.
She pledged that UN agencies will support young Vietnamese and nurture their dreams, contributing to Vietnam's development.
UN agencies will assist the Vietnamese Government with building a system of policies and essential institutions to help youngsters develop a start-up and innovative spirit, she confirmed.
Vietnam is in a golden population period with around 25 million youngsters aged between 16 and 30 years, accounting for more than one quarter of the country's total population.
Conference seeks ways to enhance gender equality
Gender equality for the advancement of women is both a target and a factor contributing to the country's economic development, stated Vietnam Women's Union President Nguyen Thi Thu Ha.
Ha made the statement during a consultation conference in Hanoi on August 12 to seek measures to implement Goal 5 on gender equality of the 2030 Agenda on Sustainable Development.
The 2030 Agenda on Sustainable Development comprises 17 goals and 169 criteria. Goal 5, which aims to solve gender inequality and empower women and children, is also a solution for the success of other goals, thus strengthening the role of women and proving the benefit of caring for women during the development in each country, she noted.
Ha affirmed that the engagement of scientists and international organisations in mapping out orientations, solutions and mechanisms to eliminate gender inequality is significant to the building of a national plan of action for the implementation of Vietnam's sustainable development goals.
The ideas collected during the event will also help the VWU to design measures to enhance gender equality and the union's recommendations in realising the national plan of actions on the 2030 agenda, she said.
She noted that although women play a key role in all sustainable development goals, the income of women is much lower than that of men, while their retiring age is lower.
The ratio of women engaging in politics is still low, while women are facing many social issues such as domestic violence, sex and labour abuse, she said, stressing that a long-term strategy is crucial to deal with the matter, together with a close coordination of relevant ministries and agencies.
Meanwhile, Pratibha Mehta, UN Resident Coordinator in Vietnam , said that the UN is working with the Vietnamese Government in making a development plan for the country in the next five years, with a highlight on gender equality.
Gender inequality in Vietnam still exists in many different forms, she said, noting that women are a more vulnerable group as they are family and children care givers. They also have less access to social welfare policies, and need more attention and investment from the Government and the whole community, she stated.
She also suggested that along with other measures to improve the situation, the country should also ensure the full and effective engagement of women in all leadership positions at all levels and policy making activities.
Programme helps Vietnamese students seek jobs in Japan
Vietnamese students in Japan had a chance to learn about the personnel demands of Japanese enterprises at a job connection programme recently held in Japan's Saitama prefecture.
The event forms part of a bigger cooperation programme between the Vietnamese Embassy and Saitama prefecture, Tokyo's neighbour to the north.
It was attended by over 80 Vietnamese students in Japan and nine companies in Saitama with most of them running businesses in Vietnam.
Saitama Governor Kiyoshi Ueda said over 99 percent of enterprises in the province are small- and medium-sized, and they are seeking to access Southeast Asian markets, including Vietnam.
Vietnam is the very first country these firms think of when they intend to invest overseas, he said, describing on-the-spot human resources as the major hindrance facing Japanese businesses, he noted.
Ambassador Nguyen Quoc Cuong said Vietnam has the largest number of students in Japan compared with other Southeast Asian nations, with nearly 50,000.
He noted his hope that a database on overseas Vietnamese students in Japan will be set up to better manage and help them get jobs in the host country.
Australian project helps northern ethnic women
The Australian Embassy along with non-governmental organisations began a project on "Women's Economic Empowerment through Agriculture Value Chain Enhancement" (WEAVE) in Hanoi on August 12.
Australian Ambassador for Women and Girls Natasha Stott Despoja said WEAVE is the latest initiative of Australia to raise the position of women in Vietnam.
The Australian government will fund 2.5 million AUD (1.9 million USD) for the project, which will be administered by a consortium of NGOs comprising of CARE, Oxfam and SNV. It will be carried out between now and 2019 in the northern mountainous provinces of Lao Cai and Bac Kan.
The project will help improve the livelihoods for over 1,800 people in the two provinces through providing them with marketing skills and knowledge on financial know-how, business planning, negotiation ability and legal understanding.
It will also increase ethnic women's economic empowerment in the agricultural value chain including banana, cinnamon and pig via promoting gender equality, while improving production efficiency and connect farmers with other economic actors in the value chain.
The project is a premise for a new aid programme of Australia which aims to enhance the economic empowerment for women in Vietnam's northwestern region in the years to come, Stott Despoja said.
Participants lauded the project for improving their income through technology transfer. However, they hoped for more stable markets for their products.
RoK helps Vietnam develop employment information network
The Prime Minister has approved a technical support project for an employment information network, which uses non-refundable aid from the Republic of Korea.
The project worth 3.44 million USD aims to create a database of job seekers and recruiters nationwide, helping job centres give careers advice while analysing the labour market.
In addition to connecting job demand with supply, the project is designed to enhance the management capacity of job centre staff and create a common process to collect, update and popularise labour market information.
Vietnam's workforce was 54.47 million in the second quarter of this year, accounting for 76 percent of the country's above 15 year-old population.
Some 1.12 million people were unemployed in the period while the recruitment need was 224,000 people, up nearly 24,000 people over the last quarter of 2015, mostly in sectors that require unskilled labour.
Dak Nong proposes hastening aluminum project
The Central Highlands province of Dak Nong has suggested speeding up the construction of the Nhan Co Aluminum Plant to ensure its completion in 2016 as scheduled.
At a working session with Minister of Planning and Investment Nguyen Chi Dung in Dak Nong on August 11, Secretary of the provincial Party Committee Le Dien also called for more attention from ministries and centrally-run agencies to the building of several irrigation facilities in the locality in order to cope with climate change, especially drought.
Along with road, railway and airport projects from 2016-2021, the official proposed the Government allocate capital for its migration projects, saying Dak Nong hosts 51,000 unplanned migrants who have yet been helped to settle in, thus affecting the locality's security and social order maintenance.
According to Dien, the province will focus on creating economic breakthroughs in the next five years, targeting a bauxite-aluminum-spongy iron complex, high-tech agriculture, and tourism.
At the same time, Dak Nong will pour more investments in comprehensive infrastructure construction to serve local socio-economic development, gearing towards an annual growth rate of 9 percent and per capita income of 52 million VND (2,340 USD), he noted.
In reply, Minister Dung urged the province to mobilise other resources, apart from the State budget, especially those from businesses to spur its growth.
Dak Nong should improve its investment climate while sticking to environmental protection and regional connectivity, he suggested.
The minister promised to propose the Prime Minister maintaining mid-and long-term capital for the province, and create the best possible conditions for the implementation of projects in the locality.
Earlier, Dung and his entourage made field trips to the Nhan Co industrial zone, the Dak Nong aluminum electrolysis plant, the Nhan Co aluminum plant and the Gia Nghia irrigation cluster projects in the province.
UNICEF project to support saline intrusion hit areas approved
The Prime Minister has approved a project on emergency aid to overcome drought and saline intrusion in the South Central, Central Highlands and Mekong Delta regions.
Funded by the United Nations Children's Fund (UNICEF), the 4 million USD non-refundable Official Development Assistance (ODA) project will be implemented over 5 to 9 months.
The project is expected to be carried out in 10 provinces, including Ben Tre, Ca Mau, Hau Giang, Soc Trang, Binh Thuan, Ninh Thuan, Dak Lak, Kon Tum and Gia Lai, aiming to improve water supply, home-environment hygiene and nutrition conditions for 366,000 people in drought and saline intrusion hit areas.
The work will deploy programmes on clean water, disseminating hygiene practices and nutrition for children in affected provinces, in an attempt to ensure basic living conditions are realised.
Japan's human resource scholarships provided for Vietnamese officials
Authorities of the Mekong Delta city of Can Tho discussed the Japanese Grant Aid for Human Resource Development Scholarship (JDS) programme with representatives from the Japan International Cooperation Agency (JICA) during a local working session on August 11.
Provided by the Japanese government in non-refundable aid, the scholarships are designed for Vietnamese officials aged 24-39 who have worked for State agencies for at least two years.
They will be offered an opportunity to pursue two-year masters degrees in law, economics, business administration, agriculture and rural development, information technology, and environment policy at Japanese universities.
In 2017-2018, 30 promising young officials will be chosen to receive the scholarships. They must score at least 500 TOEFL points or equivalent and commit to serving the State for at least two years upon their return.
Le Van Tam, Vice Chairman of the municipal People's Committee, asked the Department of Home Affairs and the Department of Education and Training to work closely with JICA to facilitate the process.
This month, two local officials will fly to Japan for studies under the programme.
Book on Vietnamese, Korean culture hits shelves
A book on the cultural characteristics of Vietnam and the Republic of Korea (RoK), and their similarities and differences, was introduced in Ho Chi Minh City on August 11.
The 480-page book is compiled by Associate Prof., Dr. Tran Thi Thu Luong, Director of the Korean Studies under the University of Social Sciences and Humanities, the National University of HCM City.
It compares the cultural features of Vietnam and the RoK in the past and today based on analyses on cultural structures as well as economic, political and social changes and sociological surveys conducted in the RoK community in HCM City, the RoK companies in Vietnam, and the Vietnam-RoK families in the RoK.
The book aims to help people of the two countries understand respective culture and adapt when living and working in the other country.
Japanese citizen to be prosecuted for transporting undeclared goods
The Customs Office at Noi Bai International Airport said on August 11 that it started legal proceedings against a Japanese passenger on a charge of illegally transporting seven golden statues by air.
Kitada Takayoshi, 33, was prosecuted for "illegal transportation of goods and currency across the border" under Article 154 of the Criminal Code.
The office's staff detected some metal items in Takayoshi's luggage through the scanning system at the airport. By physically checking, they found seven silver-coloured statues weighting about 5kg without producing customs declaration.
Takayoshi then admitted that the statues were made of gold.
Test results showed that all the statues were made of gold, worth about 7 billion VND (315,000 USD).
HCM City: Can Gio district urged to adapt to climate change
HCM City's Can Gio district has been urged to develop its marine economy as part of the "Ho Chi Minh City moving towards the sea with climate change adaptation" programme.
The city asked the district to preserve Can Gio mangrove forest and take measures to restructure the local economy.
For the rest of this year, the district must evaluate the development of local sectors and restructure its economy.
The municipal Committee also urged relevant bodies to help farmers in the district sell their salt.
Building 26 dikes to protect landslide-prone river banks and residential areas will be prioritised.
City officials also suggested building a waste treatment plant in An Thoi Dong commune and a cemetery in Binh Khanh commune.
The municipal authorities also requested the district accelerate the installation of water pipelines in An Thoi Dong commune to connect local residents to the city's water supply networks.
43 toxic barrels removed to safe place
Forty-three toxic barrels, remnants from the war, have been successfully moved to a safe location by the military in this Central Highlands province yesterday, the Military Command said.
The barrels, weighing some 1,500kg, were discovered at a depth of 2.5m below ground in Sa Thầy District's Rờ Kơi Commune.
More than 20 soldiers were mobilized to the scene and worked for six days to remove all the barrels.
The soldiers had to dig across a large area to avoid spreading the chemicals to other regions.
The province has discovered hundreds of toxic barrels left over from the war in recent years.
Many local residents have suffered serious illnesses such as mental retardation, blindness, deafness and cancer, as well as reproductive failure and congenital diseases after coming into contact with these barrels.
Police smash illegal weapons' trade in Cần Thơ
Police in Cần Thơ Province yesterday raided a house in Cần Thơ City's An Hội Ward and seized a large amount of lethal weapons of unclear origin stored there.
The weapons included Japanese swords, knives, machetes and switchblades. More than 10 boxes of antique electrical goods, clocks, binoculars and ceramic items were also seized.
The police said after months of tracking, they conducted a surprise raid at 8am yesterday, when the house owner Huỳnh Thị Thanh Tuyền was trading illegal weapons for a customer.
Tuyền, who was also the owner of the illegal goods, failed to show papers regarding the origin of the weapons.
None of the goods had been registered for trading.
Initial investigation showed that the goods were imported and traded via the Internet. Most of the customers were from the northern region.
The police are completing procedures to inspect the second storage area of Tuyền in Cái Răng District, before investigating the case further.
Water sport complex opens in Quảng Bình
Oxalis Adventure Tours has just opened a water sport complex in the central Quảng Bình Province.
The complex is located in Chày Lập Village, Bố Trạch District, in Phong Nha – Kẻ Bàng Park.
The complex offers river kayaking and cruises on Chày and Son rivers by boats. It is located near Chày Lập Farmstay, a community tourism area that has rooms available on rent and farms for raising cattle and planting vegetables.
The complex is located near Tối Cave (3km), Nước Mọc tourist site (4km) and Thiên Đường Grotto (6km).
Writing contest features Sài Gòn and its lifestyle
Young amateur writers at home and abroad are encouraged to participate in a writing contest launched by the HCM City-based Saigon Books company this week.
The contest, Người Việt Viết Sách (Vietnamese Write Books), aims to encourage Vietnamese people, particularly youth, to enjoy writing and reading books.
Its theme is about the history, culture and lives of Vietnamese, their dreams and challenges faced in work. Writings about memories of Sài Gòn, its culture and lifestyle, are also encouraged.
"We hope the contest will help young writers develop their careers," said Dương Ngọc Hân, general director of Saigon Books.
Several prizes worth more than VNĐ560 million (over US$25,000) will be given.
Submissions of high-quality work will be introduced to the public through print publications.
Those interested in participating should send their works by email at ngư[email protected] before August 2017.
Submission should be no fewer than 1,000 words. Writings used on Facebook and blogs are allowed.
To promote the contest, several forums and seminars on writing and publishing will be organised in HCM City and neighbouring provinces.
Hưng wins Mekong Delta cycling tournament's second stage
Cyclist Mai Nguyễn Hưng won the second stage of the Mekong Delta Cycling Tournament on August 14.
Hưng, from VUS-HCM City, clocked a top speed of 41.818km per hour during the 150km stage from Hà Tiên Town to Long Xuyên City. He completed the event in 3:53.13.
Hà Thanh Tâm of An Giang Plant Protection and Trịnh Đức Tâm finished second and third, respectively.
Although Tâm finished second in this stage, he held onto the yellow jersey (best overall time) with a total time of 5:47.54.
Lê Văn Duẩn won the green jersey for scoring the maximum of 34 points after two stages, followed by Tâm with 28 points and Hưng with 27 points.
VUS-HCM City led the team race with a combined time of 17:24.15. An Giang's Gạo Hạt Ngọc Trời and Military Zone 7 were the runners-up.
Fifteen teams from across the country participated, competing in a 1,043km nine-stage race through 13 cities and provinces.
The team and individual event winners of the tournament will receive a total of VNĐ320 million (US$14,500) in prizes.
District hospitals can now perform surgery on serious brain injuries
Several HCM City district-level hospitals now have the capacity to perform surgery on patients with serious brain injuries, helping to ease patient overload at the city's central-level hospitals.
For patients with brain injuries, surgery is especially critical in the first four hours after the injury, as it helps to reduce the rate of mortality by 30 per cent, according to doctors at District 2 Hospital.
Surgery performed during this "golden period" also helps to minimise damage to brain tissue.
Last month, two patients with serious brain injuries, caused by traffic accidents, had operations and have since been discharged from the hospital.
The hospital's doctors said the patients would have died if emergency surgery had not been performed to remove blood clots that had put pressure on the brain and had damaged brain tissue, causing bleeding.
Most of the brain injuries from traffic accidents are due to people not wearing a helmet or wearing a substandard one.
A survey conducted by the Health Strategy and Policy Institute under the Ministry of Health, released in 2013, showed that brain injuries were the second-leading cause of fatalities in Việt Nam, followed by heart disease.
Lan Hương bids farewell to national stage
Award-winning actress Lan Hương charmed spectators at Việt Nam National Drama Theatre with her role in the Tai Biến (Accident) play on Wednesday night.
Hương acted in the supporting role of Mrs Cầm in a play that was held by the theatre to highlight her strong stage performances. She will retire on August 17 at the end of a 38-year career with the Việt Nam National Drama Theatre.
"The performance last night was invaluable to me and my family," Hương said. "Thanks a lot to my colleagues – my beloved people. Thank you to the theatre to which my heart will always belong."
Hương had great success with her role in the Tai Biến play, even though it is a supporting role. This role, however, is very special to her as she has played it across the country.
Born to a Hà Nội-native family, Hương came to the stage by chance. She had accompanied a friend to a recruitment event at an art school. The judges chose Hương but did not accept her friend. However, she was later threatened with expulsion from the school as she was unable to continue demonstrating sufficient ability.
One teacher took an interest in her and persuaded her to continue studying to be an actress. Since then, the actress has not only made great contributions to the stage but has also become a popular presence on many television shows.
She was very young when she accepted her first on-screen role, playing a young volunteer in Vũ Phạm Từ's movie Khoảnh Khắc Im Lặng Của Chiến Tranh (Silent Moment of War).
Her second movie role was in Mùa Ổi (The Season of Guavas)*, directed by Đặng Nhật Minh, where she played the younger sister of a mentally handicapped man. The role earned her the best actress award at the Singapore International Film Festival in 2001.
She also received two gold medals for her roles as Lý Chiêu Hoàng in the historic Trần Thủ Độ play and as Mrs Cầm in Tai Biến at the National Profession Theatre Festival in 1995 and 2013, respectively.
Her husband, actor Đỗ Kỷ, starred alongside her on only one occasion, for the television series Nếp Nhà (Domestic Decency).
Hương was granted the People's Artist title in 2011.
VNA/VNS/VOV/SGT/SGGP/TT/TN/Dantri/VNE
Social News 15/8 have 6561 words, post on at August 15, 2016. This is cached page on Talk Vietnam. If you want remove this page, please contact us.