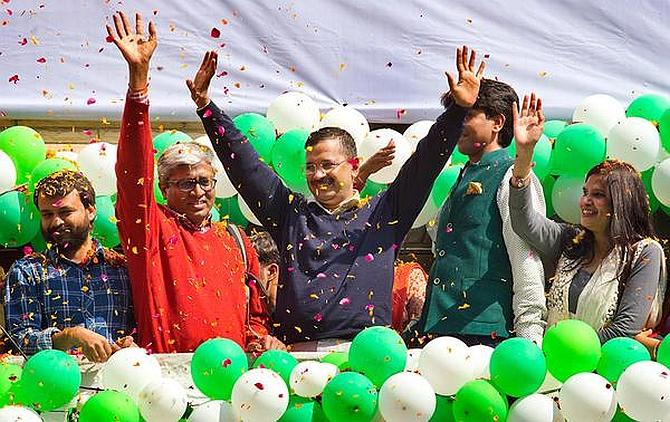 'Kejriwal has taken a leaf out of Modi's campaign of 2014 and improved upon it.'
'That suit will haunt Modi till he exits politics.'
'Of all the factors that favoured Kejriwal, the biggest was the arrogance and over-confidence of the Modi-Shah led BJP.'
'What the Congress could not do in the last two decades in Gujarat, Kejriwal did it in no time in Delhi.'
'The BJP has behaved exactly like the Congress in decoding Kejriwal's politics.'
Sheela Bhatt/ Rediff.com on the historic Delhi election result.
O n February 14, when Arvind Gobind Ram Kejriwal takes the chief ministerial oath for the second time, he will embark on a journey as fascinating as the one Narendra Damodardas Modi embarked upon 260 days ago.
While one leader struggles to master the office he holds, the other will do everything as chief minister to prove that he is indeed prime minister material.
The Modi government is steady and strong in terms of numbers so the next Lok Sabha election is likely to be held on schedule in 2019, when Kejriwal will be just 51 and Modi will be 68.
In 2024, Kejriwal will still be young at 56, and Modi a septuagenarian. Kejriwal, obviously, has enough space and opportunity for many political lives in the coming years and decades.
Image: Arvind Kejriwal and other AAP leaders celebrates AAP's historic victory.
Kejriwal deserves unqualified praise for reading the people's minds correctly and for sucking Modi and Amit Shah into a political whirlpool. He has shown the limits of power of winning 282 seats in the Lok Sabha. Once more, it has been proven that money alone can't win elections in India.
I t is clear that Delhi has voted on India's behalf.
Among many things, it is a vote against the emerging absolute power of Narendra Modi. It is a reaction against the fear of a perceived monopoly by the Bharatiya Janata Party/Modi over India's political geography.
Rahul Gandhi simply does not fit the bill in these days of personality-based politics, so the people have garlanded Kejriwal to keep the democratic balance. It is just a nudge from the people, not a major shift away from the establishment or even Modi.
After the Lok Sabha election, the BJP has been winning state after state, but its pan-India winning streak made many uncomfortable, and not just the non-BJP political parties. The idea of absolute power in a few hands does not work in India anymore.
India cannot have a Vladimir Putin. The BJP cannot have as much space as the Communist Party does in China either.
Delhi's vote, among many things, is a vote against the monopoly of power politics. Indians abhor concentrating absolute power in one hand, even if those hands are of a popular leader like Modi.
If that is not the case, then it is impossible to explain the huge swing away from Modi and the BJP in less than nine months. This has happened despite the BJP spending crores of rupees to seek votes in Modi's name. Kejriwal's victory is all the more awesome for that.
A t the height of Delhi's winter a cauliflower would normally sell at throwaway prices, but this year it costs around Rs 30 a kilo. A lemon costs Rs 5. And far away, in Gondia, Maharashtra, the minimum support price of paddy was cut under Modi's rule by Rs 150 when compared to the price under Manmohan Singh's government.
The international price of oil per barrel, incredibly, now hovers around $58; during Dr Singh's rule it largely remained above $100. The common man does not understand where the profit is going. Why doesn't the profit from the low cost of foreign exchange show in the bazaar, he wants to know.
As it happens with our politicians, the BJP is caught in its own web of illusions and half-truths about the lowering of food prices.
Why the system, governance and language of ministers have remained more or less like the Congress's, people wonder. ' Achche din kab aayenge? ' Delhi asked Modi today.
K ejriwal is a political leader who goes back to the war-room, again and again, to change his strategies and master the details. On the other hand Modi has proven static and stubborn in the battlefield of Delhi in 2015.
When he takes the oath of office a second time, Kejriwal will be a different man. When he emerged from the shadow of social activists Aruna Roy and Kisan Baburao 'Anna' Hazare, Kejriwal was an angry young man, like Amitabh Bachchan in the 1970s.
He would tear apart the reputation of Robert Vadra and Mukesh Ambani at nationally telecast press conferences. He would challenge Indian news television like never before ( external link ), he would wear the Gandhi topi saying, 'I want Swaraj' and ' Mujhe azadi chahiye .'
People could not digest his ideas of Swaraj (where he recommends participatory democracy), but nevertheless found him non-corrupt. His personal integrity helped him build a party around himself.
The Aam Aadmi Party was a novelty, but the middle class, who normally does not support rebels or a guerrilla character in public life, still doubted him. He failed miserably in the Lok Sabha election as the established political parties dubbed him a clown and paakhandi (two-faced) , nothing less. His party candidates lost their deposits collectively worth Rs 3 crore (Rs 30 million).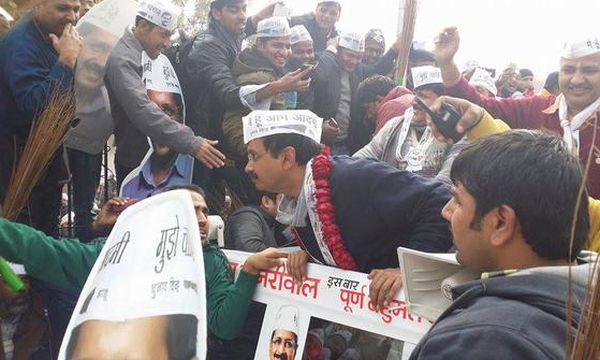 S oon, Kejriwal turned flexible. He went back to overhaul his strategy. As Ashish Khetan articulated to Rediff.com in different words, AAP cadres and workers spread the word that the idea of Modi and the idea of Kejriwal can co-exist.
Image: Arvind Kejriwal greets people during a roadshow. Photograph: Aamaadmiparty/Twitter
So, Kejriwal and his spokesmen spared Modi, and never attacked the prime minister. Kejriwal asked for the job to run Delhi. He donned the cap of a janata ka CM . No rebel act this time, and it clicked.
Bijender Sheoran, an IIT graduate who was part of the four-member team that conceptualised Modi's highly successful chai pe charcha campaign, left the Modi camp and actively helped AAP this time, supporting its social media campaign. He told Rediff.com , "AAP made it a good versus good campaign and claimed power."
Without putting it in so many words, Kejriwal's foot soldiers suggested that it was a good versus good battle and advantage Delhi wallah s. There was no confusion left for voters. Let Modi be PM and let Kejriwal be your CM, the AAP claimed.
And why not?
The voters's choice was made easier because of the arrogance of the BJP, its leaders, ministers and spokesmen. Modi-Shah's decision to take on Kejriwal over AAP's Rs 2 crore funding was a most bizarre political campaign decision. They awarded Kejriwal the status of victim, which certainly gave him a huge lead over the BJP.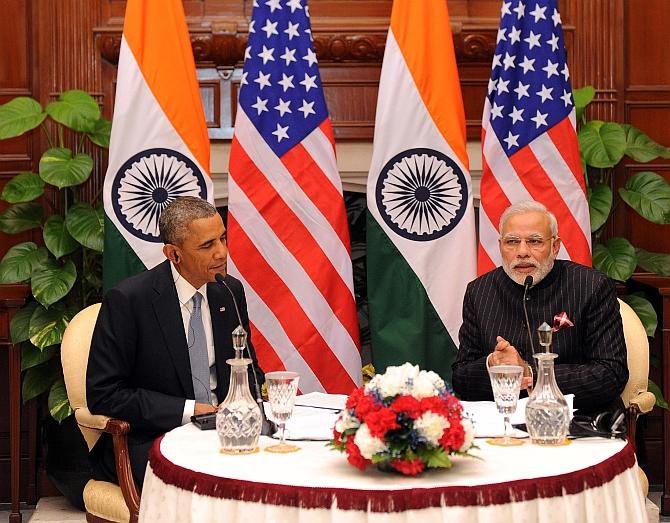 A lso, the Delhi vote proves that Barack Obama's visit backfired. Till December 2014, most exit polls showed the BJP ahead of AAP, but in January things started changing.
Soon after Modi overplayed his parleys with Obama in a joint interaction with the media at Hyderabad House, the swing against the BJP solidified. Check out all the exit polls conducted after January 29, if you don't believe me.
Somewhere, Indians were untouched by the way the images of Modi's claim of friendship with Obama, his tea meeting with Obama in an artificial setting, and his luxurious suit, all played out on television screens. The Obama visit backfired completely at the political level.
As the wise and experienced say, the people of India may be illiterate but are not uneducated, and it was proven correct once more.
Modi's claim of having developed closeness with 'My friend Barack' was unconvincing. Obama, standing next to Modi, didn't reciprocate as effusively and that was embarrassing for Indians.
Finally, Modi's suit with his name 'Narendra Damodardas Modi' interwoven in golden embroidery, created shock waves.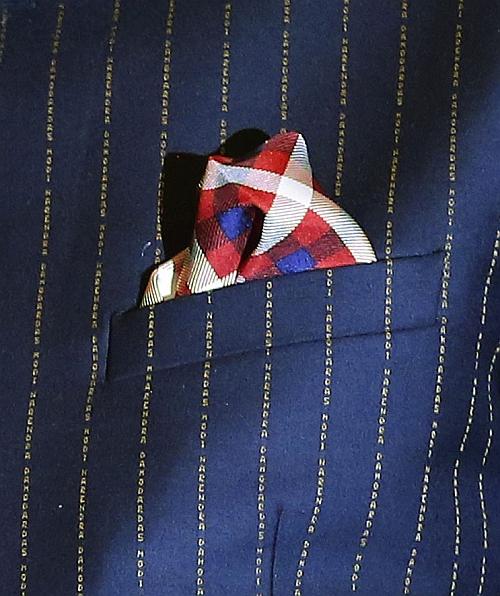 That suit will haunt Narendra Modi till he exits politics.
People voted for Modi to fix the grave issues in India, but they found him, instead, now and then hugging Nita and Mukesh Ambani and sporting designer clothes which he changes three times a day, like then home minister Shivraj Patil.
While people waited for delivery of promises, Modi addressed NRIs from New York to Australia to Fiji.
As Modi was not ready to be hypocritical and humble in public life, it was advantage Kejriwal all the way. He could pit himself against Modi more comfortably and confidently.
When Modi wore expensive suits and served tea in an elitist ambience, Kejriwal was talking of eradicating corruption in the lanes and bylanes of Delhi. He is a known face to lead the anti-corruption movement. Since coming to power, Modi has been totally silent about corruption.
Kejriwal changed track smartly to win over Modi's middle class voters. He emerged as the Rajesh Khanna of Baawarchi and Anand . He saw that Ambani-bashing would not get him votes in 2015, so soon after the 2014 general election in which Modi won a massive thumbs up from the middle class inspired by Dhirubhai Ambani's rags to riches story.
Kejriwal more or less copied Modi minus his haughty and immodest 56-inch chest approach. Like Modi, he too rode on the aspirations of the people of Delhi, without stepping on the landmines of castes, religion or class, and presented a coherent picture of himself.
A rvind Kejriwal has taken a leaf out of Narendra Modi's campaign of 2014 and improved upon it.
Kejriwal has won Delhi because he identified with its residents's aspirations, as Modi did in 2014. In the first round of the campaign, Kejriwal, like Modi, ignored the biggies of television and print media. Kejriwal launched his messages, arguments and images on social media first.
This victory has not just decimated the Congress, but taken away the BJP's pride for the moment. Kejriwal played positive politics for the good of Indian politics, his party and himself.
Now, it is more than well established that of all the factors that favoured him in his game-plan to win Delhi, the biggest was the arrogance and over-confidence of the Modi-Shah led BJP.
When Modi claimed that he was a lucky man and Kejriwal was badnaseeb , the BJP must have lost hundreds of thousands of votes.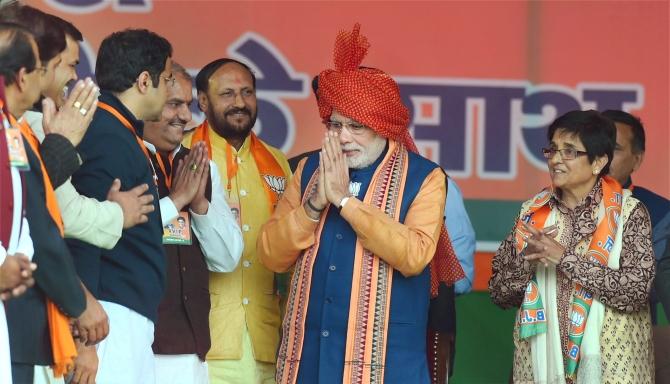 To add insult to injury, Amit Shah hurt people by saying that Modi's promise of depositing Rs 15 lakhs in voters's bank accounts if and when black money stashed abroad was brought back was merely a chunavi jhumla (election-time idiom), and suddenly there was nothing left on the side of the BJP.
They were sucked into the chakravyuh of Delhi, which is just slightly bigger than a municipality election, in full public view.
First, they dithered on holding elections. Then, they demoted Dr Harsh Vardhan in the Cabinet and made him look like a bechara . Then, a Satish Upadhyay type of non-starter was made Delhi BJP president, clearly imposed on the local outfit.
Image: Narendra Modi greets BJP leaders during a Delhi assembly election campaign rally.
Finally, there was utter confusion when Kejriwal literally forced Shah to nominate a CM candidate. Shah thought he would have 'controlled exposure' of Modi in the election campaign, but Kejriwal ensured that Modi stepped on the ground which had already turned slippery.
AAP won the war of nerves and confused the BJP into introducing Kiran Bedi who was instantly rejected by local cadres. When the Bedi card failed, Shah brought Modi to centre-stage. It was too late by then and only an incoherent picture emerged. A loser plays it double, says a saying in Gujarati. The BJP fell between two stools.
T he Modi-Shah duo was making a mistake a day as the election entered the last phase. By taking away the middle class, in one stroke Kejriwal proved Modi was no more invincible. That is why this election is superbly historic.
What the Congress could not do in the last two decades in Gujarat, Kejriwal did it in no time in Delhi.
The moot question is, how come the BJP was not able to sell the ' vikas purush ' image of Modi once again?
Why did the Gujarat model, which emphasises all-round development-oriented higher GDP, fail?
Why does one see a slight anti-Gujarati sentiment in the political corridors of Delhi?
AAP's victory will take the ongoing debate about the Lok Sabha victory forward. More pundits would now say that the 2014 election was quintessentially an anti-Congress vote than a pro-Modi vote. Also, it is clear that without provoking its Hindutva identity, the BJP is unable to knit its voter base well.
In Delhi, eight seats were clearly out of bounds for the BJP to start with as they are dominated by Muslim voters. So the BJP was fighting on just 60/62 seats.
How long will the party continue its identity politics along the religious divide?
How long do they want 'Muslim insecurity' to be a factor in as small an election as Delhi?
AAP's victory will not affect the stability of the central government, but it will give anti-BJP and anti-Modi forces a tremendous psychological advantage.
Two, Modi will be forced to rethink on the issue of land, farmers's woes, economic reforms, labour laws and, most importantly, corruption.
This election turned completely in AAP's favour because the Congress collapsed; and along with it, Brand Modi and the Gujarat model came under public scrutiny.
T he space and time available to Modi have been curtailed now. The luxury of flirting with new ideas to run this country is gone. The loud message to Modi is that your voters are impatient.
When eastern China was developing, Chinese living in that nation's western provinces waited patiently. Indians are not just demanding simultaneous growth, but are vocal too.
Kejriwal will voice their demands now. The BJP has been told — work fast or suffer the anger of the people.
Modi and Shah will have to change their ways of managing power they wield inside and outside the government. They have been accused of not sharing even a quark of power at all levels.
It is not just the shunting of L K Advani or Dr Murli Manohar Joshi into retirement, even lesser known people who contributed to Modi's and the BJP's victory feel that Modi is now behind an iron curtain of power and not accessible to them.
When Modi was concentrating power in full view of the Delhi public, Kejriwal came out as humble, articulate and open to the people. He would smile charmingly and look straight into the camera and say ' aisi galti fir kabhi nahi karoonga (I won't make this mistake again) ' when asked about his untimely resignation from government. Like Modi, he too promised chaand-taare (stars and the moon) .
In his speech at Delhi's Shri Ram College, Modi emerged as a man of a million ideas. Kejriwal did the same in his Delhi Dialogue series. That started spreading the message of Kejriwal to Delhi's middle class. He promised education loans to middle class youth.
Whenever asked how he would provide free water and power to the poor, make Delhi a free wi-fi city or how he would instal hundreds of cameras and maintain them, he would say sweetly, 'Sir ji, humne sab kuch calculate kar liya hai '!
I n just 260 days Kejriwal has turned the tables on Modi and attracted floating voters. Just a day before the election, all the Delhi newspapers had full-page advertisements showing Modi in his costly kurtas and jackets saying, 'Only progress can save the day, Delhi, let Modi lead the way.'
Then, the advertisement listed the central government's achievements in the past eight months. The advertisement was anything but appealing. Kiran Bedi's photograph at the bottom was one-third the size of Modi's. Somehow, alongside the lotus symbol, Bedi looked alien.
The amazing thing about the Delhi election is that before, during and after the campaign, it remained easy to understand. The 2015 election has been the least complex. The dividing line was clear. The poor, Dalits and Muslims were clearly with AAP while the BJP was clearly present in the middle classes.
Notwithstanding the final outcome, it would be wrong to judge that Modi is no more on the minds of the middle classes who voted for him in 2014. In the end, Delhi went totally along with AAP because their lives have not changed much in the last eight months.
The loud message from this election is that the voters of India are impatient. Indians are showing signs of impatience, in middle class housing colonies and in illegal slums equally. The support to Kejriwal from sulking Modi voters is an intelligent masterstroke.
W hat next?
Amid AAP's celebrations lies Modi's challenge. He is likely to pick up the challenge to fight another battle. Modi has the wherewithal to fight Kejriwal, whose emergence will have a profound impact on Rahul Gandhi.
How will Rahul share the same space that Kejriwal wants against Modi?
In the eyes of hardcore BJP wallahs , Kejriwal's victory means permanent 'nuisance and confrontation' on the Ground Zero of Indian politics. That can never be good news for anyone. Till this election, the BJP never understood Kejriwal.
The Congress and BJP have identical views on Kejriwal. For them he is a joker. Over confident BJP cadres think he is not a patch on Modi. An arrogant BJP MP said, "Kejriwal is a mosquito inside Modi's ear."
There is no doubt that the BJP has behaved exactly like the Congress in decoding Kejriwal's politics.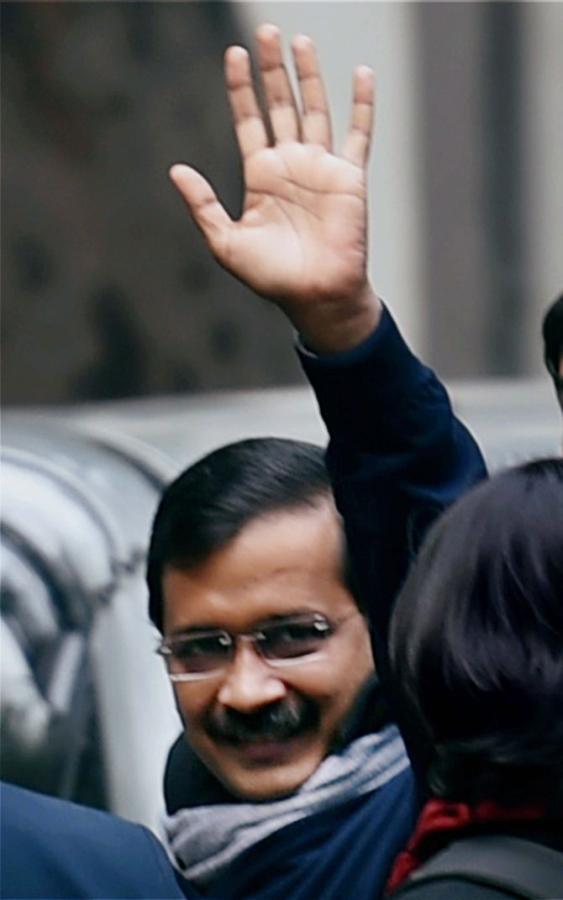 T he first thing for the BJP to do is to acknowledge that Kejriwal is not a joker, but a political leader who knows how to create space for his politics in public. The BJP should come out of denial mode.
Two, corruption is an issue the BJP can't shy away from. On the issue of black money, stop speaking like Congress ministers. The 'Swiss accounts details are not enough to take action, we need evidence' line won't work anymore. Take action against HSBC and some account-holders.
Three, respond to people's queries. Where are the huge savings accrued through a lower crude oil price disappearing?
Today is the day to celebrate Kejriwal's victory which is the people's triumph, but there are enough writers and thinkers who think ( external link ) class struggle will be ignited and intensified all over India now.
Some others think a frustrated BJP will resort to strident Hindutva. But the Delhi results show that if the fringe elements of Hindutva get the BJP's official backing, the government will pay the price.
Sushant Sareen, the well-known Pakistan expert who is not an AAP supporter, wrote on his Facebook wall that, 'I guess all of us who study Pakistan know the slippery slope India will be on if we let the communal monster out of the bottle. Delhi should serve as a wake-up call for the ruling party. Of course, there were other reasons as well for the BJP's loss, not the least of which was the growing hubris among members of the ruling party.'
K ejriwal's victory is the victory of the tortoise over the hare, but his kingdom will be too small in terms of power.
The Delhi Development Authority comes under the urban development ministry, the Delhi police works under the home ministry and the Municipal Corporation of Delhi which covers eight out of nine districts of Delhi is dominated by the BJP. Kejriwal's clash and struggle against Modi will start here.
There will be plenty of advice for Modi and the BJP. But one debate ( external link ) in China should attract Modi's attention most if he wants to consolidate his grip on the governance of India.
For the BJP, the only way out from today's disgraceful defeat by Kejriwal's ethical edge is to strike a balance between development and the importance of values in the governing system. GDP is not everything.
The middle class churning in Delhi reflects on many issues, and Modi should pick up a thread and pave the way for the future trajectory of India.
Time is short because, as you see, the people are smartly creating choices in the political market to help themselves.
How Kejriwal rode the anti-Modi vote have 3576 words, post on www.rediff.com at February 10, 2015. This is cached page on Talk Vietnam. If you want remove this page, please contact us.