Surveillance imagery recently obtained by the Center for Strategic & International Studies (CSIS) shows that in recent years Vietnam has undertaken significant construction in the Spratly Islands, a highly contested area in the South China Sea.
The never-before-published satellite photographs, taken between 2010 and April 30 this year, reveal that Hanoi has been carrying out land reclamation activities on two features in the Spratly archipelago: Sand Cay (title picture) and West London Reef. According to the think tank, Hanoi has added 65,000 square meters to West London Reef and some 21,000 square meters to Sand Cay where it has also developed military facilities.
Zachary Abuza, an independent Southeast Asia security analyst, explains that these are amongst the more than a dozen manned outposts that Vietnam maintains on small islands and features in the Spratlys. These include fairly large islands, including Spratly Island, which has its own airfield, as well as small concrete structures constructed on rocks barely above the surface at high tide, as well as steel-constructed lighthouses and aids to navigation.
"All of the outposts include personnel from the Vietnamese military, as well as from different government ministries and serve the purpose of asserting Vietnamese sovereignty," Abuza told DW. Hanoi claims the entire Spratly archipelago, as well as the Paracel islands, which China seized completely in 1974.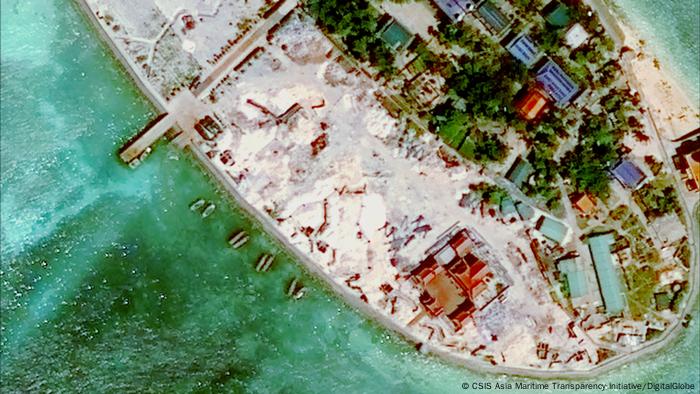 Hanoi says its construction activities have not affected the status quo (Picture: Sand Cay Reef)
'Normal and lawful'
The Chinese government reacted to the recently published images, saying Vietnam, the Philippines and other countries had been carrying out such reclamations for a long time on what it claimed were Chinese islands.
Hanoi, in turn, defended its construction activities in the area, noting they have not affected the status quo, nor escalated underlying regional tensions over territorial disputes. Speaking to reporters in Hanoi on May 14, Foreign Ministry spokesman Le Hai Binh said the nation's actions in this regard were "normal and lawful," adding that the "infrastructure improvement projects" are meant to meet the basic needs of residents on the Spratly Islands managed by Vietnam.
Moreover, the scale and pace of construction on these two sites is dwarfed by that of China. For instance, the Washington-based think tank says that Beijing reclaimed seven features last year alone, most of which are believed to be primarily military installations. China's largest Spratly project is Fiery Cross Reef, whose new landmass may exceed 900,000 square meters.
The reef reportedly already houses a helicopter landing pad, a 300-meter-long wharf, a harbor large enough to dock military tankers, barracks artillery emplacement and an airstrip of which the US research institute believes will have a final length of 3.1 kilometers, long enough to allow any Chinese military aircraft to land.
Rival claims
Hanoi has repeatedly accused China of carrying out illegal land reclamation projects in the area and of violating its territorial sovereignty.
Beijing claims most of the potentially energy-rich waterway, through which $5 trillion in ship-borne trade passes every year, arguing that it is asserting its so-called "historic rights" to maritime resources in the area. According to US government officials, China has now reclaimed over 2 million square meters of new land, while Vietnam's reclamation projects total approximately 200,000 square meters.
Besides Vietnam, the Philippines, Malaysia, Brunei and Taiwan also have overlapping claims. Last summer, China's deployment of a massive oil rig in waters also claimed by Hanoi escalated tensions in the region, sparking a standoff at sea and violent anti-Chinese demonstrations in Vietnam.
The speed of Chinese expansion in the South China Sea has alarmed other countries, including the United States which is considering sending US military aircraft and ships to assert freedom of navigation around the Chinese-made artificial islands. Such a move would directly challenge Chinese efforts to expand its influence in the maritime heart of Southeast Asia.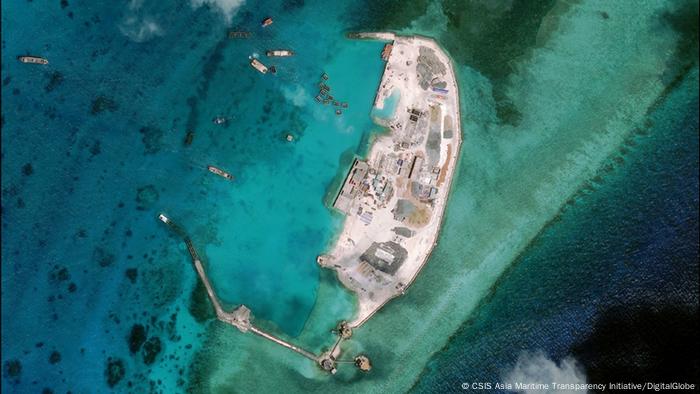 Hanoi has added 65,000 square meters to West London Reef, according to CSIS
Differences
On the other hand, China contends that it is simply doing what other countries are doing, and in that regard, experts argue Vietnam's land reclamation projects undermine its protests against ongoing Chinese reclamation efforts. However, as analyst Abuza pointed out there are a number of key differences.
While Vietnam's latest reclamation efforts are of a much slower pace – Vietnam has added roughly 8.5 hectares (21 acres) to two features, less than 2 percent of China – Hanoi is also not using the islands or features it controls to change the status quo in the region, argues Abuza.
"Vietnam is not using them to claim 12 nautical miles of territorial seas, or 200 nautical miles of exclusive economic zones and it is not using its position to force other claimants out, despite claiming all of the Spratly Islands." Hanoi is also not seeking to reinterpret international law, the expert stressed.
China, on the other hand, is building two large airstrips, including one with enough prospective flights to require a taxiway. The analyst points to the possibility that China may use its artificial islands in an attempt to declare an Air Defense Identification Zone (ADIZ) over the entire South China Sea.
Images reveal Vietnam's expansion in the South China Sea have 1158 words, post on www.dw.com at January 15, 2015. This is cached page on Talk Vietnam. If you want remove this page, please contact us.