VietNamNet Bridge – The Ministry of Education and Training (MOET), in an effort to ease excessive amount of homework for students, has prohibited teachers to hold after-school classes. But many instructors have ignored the ban.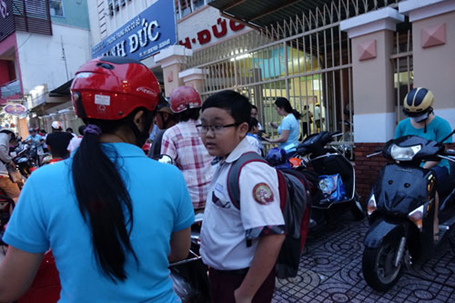 Classrooms at most of the primary and secondary schools in districts 1 and 3 in HCM City are lit up in the evening: students, after school hours, study during evening shifts.
One woman, who was standing in front of the Tran Quang Dieu Primary School in district 3, told reporters that her son is a student at a secondary school in district 1. However, he goes to a primary school to attend private tutoring class, because his teacher rents a classroom there.
Not far away from Tran Quang Dieu School, on a small alley off Le Van Sy street, many students attend a private tutoring lesson given by a famous teacher at his house.
Tra My, a student at Tran Van On Secondary School, said she was lucky enough to be admitted into the class. "There are 15 students in the class. The teacher is very famous. He is very choosy about students," My said.
At the District 4 Children's House, teachers and students can be seen teaching and learning in classrooms, despite the noisy sports and culture activities in the yard.
T, a teacher at a primary school in Go Vap District, admitted that she now runs an extra class with 15 students.
"Parents ask me to give extra lessons to help the students improve their learning aptitude," she said. "I cannot understand why MOET does not allow private tutoring to students, if this is really good for them."
Pham Thuy Ha, headmaster of Nguyen Van Troi Primary School, denied that students go to private tutoring classes because they were forced to do so.
"Many parents told me that they would rather send their children to classes in the evening than leave them at home, because children would waste time on watching TV," Ha said.
"Teachers open private tutoring classes because they can see the high demand from parents. Students are not forced to attend the classes to help teachers earn extra money as people think," Ha added.
Le Ngoc Diep, former head of the primary education division of the HCM City Education and Training, said that many parents want their children to attend private tutoring lessons.
He said that most of the students in extra classes are from the inner city, where most parents get home late in the afternoon and cannot pick their children up at 4.30 pm.
Few students in the suburbs attend after-school lessons, because they can study at home with their parents.
A teacher at a primary school in Hanoi complained that it is unfair to prohibit primary school teachers to give extra teaching hours, while high school teachers are not covered by the ban.
"While high school teachers can earn tens of millions of dong a month from extra teaching hours, we cannot," she said. "As far as I know, the Labor Code does not prohibit laborers to work extra hours."
Chi Mai
Despite ban, teachers' after-school classes continue have 557 words, post on at October 29, 2014. This is cached page on Talk Vietnam. If you want remove this page, please contact us.