VietNamNet Bridge – Japanese artist Ryotaro Sugi is a Viet Nam – Japan Special Friendship Ambassador. In 1997 he became the first foreigner to be awarded the Friendship Order by the State of Viet Nam. He plays a key role in promoting the relationship between Viet Nam and Japan through a range of cultural and social activities.
On the occasion of the 40th anniversary of diplomatic relations between the two countries, Sugi spoke about his work in Viet Nam over the past years.
Could you explain why you are especially interested in Viet Nam?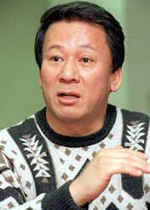 There is a strong invisible connection tying me with Viet Nam; a bond that has lasted for almost 25 years.
When I was 27 years old, I started with charity work. Since then I have carried out charitable activities in about 20 countries in Asia and South America.
The reason I have developed an extremely profound interest in Viet Nam is because the country suffered through many wars against foreign invaders. These wars resulted in a huge number of normal people becoming war victims. And in times of peace, many still suffer from a pretty hard life.
When I first came to Viet Nam I proposed to then General Secretary of the Communist Party of Viet Nam Do Muoi to set up the Vietnamese-Japanese Culture Exchange Association. I suggested former Japanese Prime Minister Obuchi Keizo to be the association's chairman and I took charge as its General Secretary. With a lack of financial support from the association, I even mortgaged my house in Japan to open the Japanese Language Centre in Ha Noi. I understood the importance of teaching Japanese to Vietnamese people because I believed that the Japanese companies would come to invest in Viet Nam before long.
You were appointed as the Viet Nam – Japan Special Friendship Ambassador for your great efforts to promote friendship between the two countries. What are your personal feelings about the Vietnamese people?
Exchange between the two countries has taken place in many fields, particularly in culture. However, some say that it is still slow. I hope the relationship will become more sustainable. I wish that Viet Nam and Japan can be more than strategic partners, but real friends and allies.
Vietnamese people are not warlike, but you were forced to fight by other countries. And nowadays, you can finally think about family, friends and yourselves. Like Japanese people, the Vietnamese are kind and value family ties. I really hope Viet Nam will enjoy long-term peace and security.
You are known as a popular artist in Japan and as a social activist and fundraiser in Viet Nam. Why are you keen on helping Vietnamese orphanages and disabled children?
Whenever I come to a country, I usually visit orphanages and disabled children. I went to schools for blind children in Ha Noi and HCM City when I came to Viet Nam for the first time.
I invited blind children from Nguyen Dinh Chieu School to Japan to play music for the Japanese Prince. When the Prince visited Viet Nam he met them again and listened to their music and he has told me that he was deeply impressed.
I still remember once I visited Birla Children's Village in Ha Noi. I brought many cakes, candies and toys for the children. There were four siblings who didn't want to eat candy. Later, they told me that they needed a family, not sweets. I ran outside and started crying. I came to understand that what the children want are not things that can be bought by money. After that moment I decided to become father of Vietnamese orphans. And I have "adopted" about 60 Vietnamese children.
You have put a lot of effort into the organisation of the 40th anniversary celebrations of the Viet Nam – Japan relationship. How do you expect this relationship to develop in the future?
I hope that Viet Nam and Japan will build a deeper and more profound understanding of each other, which will make our exchanges more fruitful. Once again I would like to stress that Viet Nam and Japan should look towards becoming very close allies.
Source: VNS