VietNamNet Bridge – Affirming that teaching of literacy and calculations for preschoolers is unscientific, the Ministry of Education and Training (MOET) has issued an instruction prohibiting teachers from teaching the first-grade curriculum to preschoolers.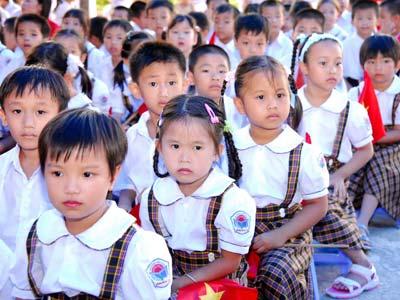 It is reported that kindergartens in some provinces and cities taught preschoolers with the curriculum of the first graders. The MOET has confirmed that this is unscientific because it makes kids subjective, decreasing their interest in learning when they enter the first grade and affecting psychological development of children, especially when the teachers do not have good pedagogic methods.
To put an end to this situation, the MOET has asked local education departments and primary schools to ban their teachers from organizing extra classes teaching preschoolers with the first-grade curriculum.
Primary schools have been requested to take measures to ensure parents of the education quality for the first graders in order to persuade them to not send their kids to pre-school extra classes.
Teachers of the first grade classes are requested to assess first-grade pupils in the direction of encouraging and noting their daily progress in order to help students feel confident and have fun for learning.
"Teachers are not allowed to make comparison and blame the students in any circumstances, for any motive. Elementary schools are banned from holding exams to recruit first-grade students," the MOET's directive stated.
Le Ha