VietNamNet Bridge – Vietnam has had universities 1.0 and it needs to build universities 2.0 with digitalized systems of documentation, students, teachers and the classrooms becoming cinemas.IT is the shortest path to develop the country: PM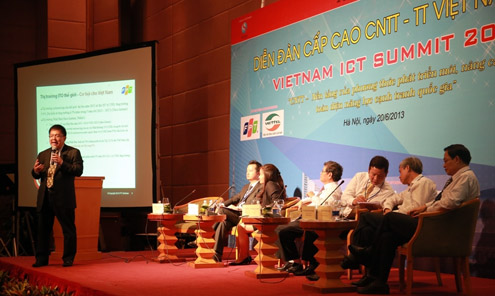 Presenting the idea of new college education, Mr. Nguyen Huu Duc, deputy director of the National University, said that there is a hierarchy of higher education but the 2.0 university model or the model of digitalized university is not interested.
"Many countries have had 3.0 universities. In Vietnam, we only have 1.0 universities and we still think that it is better to have more university students. Our National University is changing and trying to create more digital resources for students," Duc said.
"The university 2.0 builds a learning society in which all people participate in making databases to learn. Particularly, thanks to information technology, the gap between teachers and students is narrowed. Classrooms will become cinemas… In short the study model needs to change," Duc added.
Affirming the importance of information technology for education, President of the Vietnam Association of Software and Information Technology Services — Truong Gia Binh, quoted Prime Minister Nguyen Tan Dung's in his opening ceremony of the Vietnam ICT Summit 2013.
"The PM affirmed that education is the most important factor. People have said that any economy experiences agriculture, industry, services and knowledge. The PM referred to the new method, i.e. agriculture, industry, education … all need the new method. The first new thing is the product," Binh said.
Binh said in education, if the products (students) do not have English, no creativity, no IT skills, they are useless. And if such products keep being produced, the future of Vietnam is dull.
Binh added that intelligent education means to digitize all, from students to teachers and the entire process of exams, study, exchange… Student, teachers, schools are interconnected. Then, teachers can be proud to say that "I have millions of students around the world."
Former Deputy Minister of Posts and Telecommunications Mai Liem Truc said that the scheme on comprehensive innovations of education was not previously approved by the National Assembly. The reason is that the scheme was unsatisfactory, in which it did not set IT at the true importance position.
Head of the Department of Information Technology of the Ministry of Education and Training – Mr. Quach Tuan Ngoc – said today universities are using software systems to manage the training process, financial activities and have electronic and digital libraries.
For the Ministry of Education, he had suggested to set up data and statistical systems before conducting comprehensive reforms of education. To have data, only information technology can help.
According to Ngoc, the innovative teaching and learning in higher education must move towards in the near future. Information technology provides higher education opportunities for many people. This model is developing very powerful in the world. Since there will be a radical change, providing knowledge for everyone to lifelong learning.
Minh Ha