VietNamNet Bridge – Black bean beetles have become a disaster for people in Hoa Binh commune in the Central Highlands city of Kon Tum in recent days although local people have tried every way to eradicate them.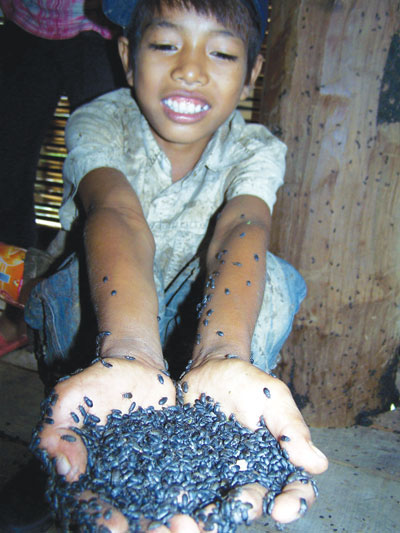 According to local residents, thousands of beetles flew into their houses, forming dark streams. Every morning when they woke up, they saw a thick layer of black bean beetles on the floors and on the walls.
"When it rained, black bugs flew up from the floor like black flows of water," described Ms. Y Mon, 25, a resident of the village of Plei Chor.
"If the weather was cool, black bean beetles hang around the walls and the ceilings. If it was hot, they dropped to the floors, the beds, the wardrobes, etc, crawling and emitting the sound like silkworms eating mulberry leaves," she added.
"Yesterday, I spread canvas on the floor, swept the house and collected two large sacks of bugs. I told my daughter to pour boiling water over the bugs and buried them," said Mr. A Gip, a village elder in Plei Chor.
The black bean beetles come from rubber forests. They strongly reproduce when it is going to rain or in humid climate.
According to the medical center of Kon Tum City, this species of bug does not cause or directly or indirectly transmit diseases to humans, but with the thick density in the house, they generate odors that can cause allergic reactions in sensitive areas and especially cause many troubles and difficulties in life.
According to Mr. Luu Dung, an official of Hoa Binh commune, people used all measures to eradicate the beetles but they could not kill all of them. Every few days they reappeared.
Nam Hai