Heartthrob Mario Maurer in Ho Chi Minh City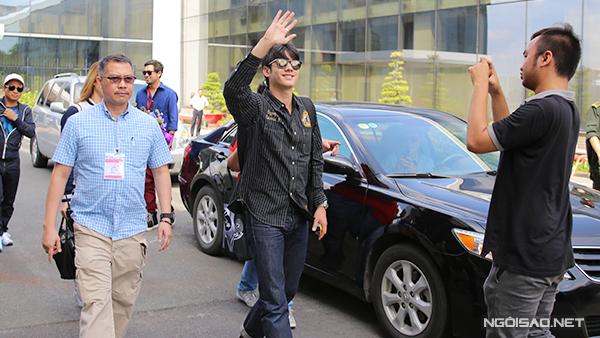 Mario landed at Tan Son Nhat International Airport the morning of November 7 to heaps and heaps of noisy fans.
According to his publicist, later in the afternoon he will appear at the grand opening of a new shopping mall SC Vivo City in Ho Chi Minh City's District 7.
In addition, Mario will meet with fans and hold a presser prior to jetting back to Thailand on November 8.
In life after TV, Vietnam Idol runner-up holds first concert
Hoang Quyen, runner-up of Vietnam Idol 2012, will have her first live show tonight, marking her "grown-up career", the 23-year-old singer said at a recent press conference.
Entitled Ret Dau Mua (Early Chill), her debut show was named after a song written for her by composer Le Minh Son, which she has already sung at past performances. Quyen will open with this song at tonight's concert, which begins at 8pm at the Ha Noi Opera House.
Quyen, a Tay ethnic native of the northern mountainous province of Thai Nguyen, will perform songs by famous composers such as the late Trinh Cong Son, Thuan Yen and Pham Duy.
Two guest singers including Thanh Bui, a finalist of Australia Idol 2008, and Duc Tuan, who is known for his semi-classic music style, will have duet performances with the songstress.
Quyen began her singing career when she was 14 after being discovered by composer Son.
Although Quyen's songs have been previously featured on three albums by composers Dang Huu Phuc, Le Minh Son and Tran Viet Tan, she just released an album of her own in May.
Entitled Ve (Come Back), the debut album features emotional songs by veteran Vietnamese composers such as Trinh Cong Son, Vu Thanh An, Ngo Thuy Mien and Pham Duy. The songs have been performed in an acoustic style, aiming for "maximum exposure of Quyen's pure and passionate voice," said Son, a key supporter of Quyen's music.
Readers time travel at old book fest
More than 20,000 books, probably more than 100 years old, are on display at HCM City's Youth Cultural House during the Old Book Festival 2015, which opens until tomorrow.
Visitors will have the opportunity to find their favourite old books at the exhibition in various categories such as philosophy, history and fiction, besides old magazines or newspapers, most of which were released during the subsidy period (1976-86).
Nguyen Tuan Quynh, general director of Alpha Books and co-organiser of the event, said the Old Book Festival this year would feature old books that were very difficult to find in the market, such as La Cochinchine, Dai Nam Quoc Am Tu Vi (1896), Kim Van Kieu (French edition, 1926), or Vo Bo (1970).
He told Thanh Nien (Youth) newspaper that bookaholics in the city would get an opportunity to find interesting books to add to their family's bookshelves or collections of old books.
A booth has also been set up for individuals or organisations to exchange or donate old books.
Three seminars – Suu Tam Sach Cu: Nghe Choi Cung Lam Cong Phu (Old Book Collecting: a Meticulous Hobby); and Nguoi Viet Viet Cho Nguoi Viet (Vietnamese Writes for Vietnamese) and Nguoi Tre Doc Gi (What are the Young Reading) will also be held today along with the exhibition.
New books of various kinds such as on social politics, memoirs and foreign literature are available for discounts up to 80 per cent during the event.
A part of the proceeds collected from the sale of books will be donated to the Chuyen Xe Mua Xuan (The Spring Trip) fund, which will be used to provide poor students free tickets to help them go home during the Tet (Lunar New Year) Festival.
HCM City's Old Book Festival is among a series of annual cultural events that are jointly organised by the Youth Cultural House and Alpha Books.
Project supports emerging artists
A fund to support artists was launched recently in the northern Vinh Phuc Province.
Under the "Art in The Forest" (AITF) fund, the creative work of three talented painters and sculptors will be sponsored every year.
"We aim to help emerging artists turn their ideas into reality. The selected artists will get a maximum of VND200 million (US$9,000)," artist Vu Hong Nguyen, the fund's co-founder, said.
The AITF fund will also seek artworks for its collection. It bought three sculptures made by Khong Do Tuyen for its first collection.
A month-long creativity camp was held as the first event of the fund at the Vinh Phuc's Flamingo Dai Lai Resort in October.
About 15 artists, such as Tuyen, Tran Duc Nghia, Tran Trong Tri and Lap Phuong, the only female artist present, attended the camp.
Their wood, steel, marble and bronze sculptures have been installed in the resort.
Publishing house signs veteran writer
Nguyen Minh Nhut, director of the Tre (Youth) publishing House, has just signed a lifelong contract with veteran writer Tran Kim Trac, who is famed with his short stories about the southern region.
Born in 1929 in the Mekong Delta province of Tien Giang, Trac has worked as a writer for almost 50 years and written 20 short stories on life in the southern region.
He is the third writer from the south after writers Son Nam (1926-2008) and Trang The Hy (1924) who have signed the same contracts with the publishing house.
According to the contract, the publishing house will be able to publish 19 short stories by the writer starting this month. The publishing house has given the writer VND100 million (US$4,400) as a pre-paid copyright sum.
The writer will receive a copyright fee when the works are reprinted and his family will get the fee when the writer passes away.
The writer has also allowed the publishing house to publish his works in e-books.
Trac has been known through his short story titled Cai Lu (The Jar), which earned him a prize of the Viet Nam Literature and Arts Association in the period 1945 to 1954.
Vietnamese photos win CGAP awards
Five photos submitted by Vietnamese photographers have won prizes at the 10th Annual Photo Contest launched by the Consultative Group to Assist the Poor (CGAP).
The photo Vuot Qua Doi Cat (Overcoming Sandhill) by Le Minh Quoc is the East Asia and Pacific Region winner, while Hanh Trinh Tiep Theo (For The Next Journey) by Loc Mai; Thu Hoach Trung (Duck Egg Collection) by Tran Van Tuy; Buoi Sang (Morning) by Do Hieu Liem; and Day Xiep (Human Pushing Netting) by Ngo Quang Phuc have received honourable mentions.
The winning photo Overcoming Sandhill shows workers walking over sand dunes in the morning.
"It makes you wonder how the photographer took this photo," said Nicole Crowder, a jury member.
The grand prize has been won by India's Sujan Sarkar for his photo entitled Paddy Cultivation. The second and third prizes have been awarded to China's Liming Cao and India's Pranab Basak.
Da Nang hosts cultural exchange event
A cultural exchange programme with members of the Commonwealth of Independent States (CIS) is taking place in central Da Nang city from October 28 – November 5.
As part of the event, 60 candidates from CIS State members have come to the city to attend three beauty pageants, titled Young Miss World Beauty 2015, Miss World Beauty 2015, and Mrs World Beauty 2015.
A concert is scheduled to take place on the night of November 4, gathering popular musicians such as singers Minh Huyen, Toc Tien, and winner of The Voice Kids 2015 Hong Minh.
The CIS encompasses Armenia, Azerbaijan, Belarus, Kazakhstan, Kyrgyzstan, Moldova, Russia, Tajikistan, and Uzbekistan.
'The Fisherman and His Wife' play to be staged in Vietnam
'The Fisherman and His Wife' by Einar Schleer, based on a German fairy tale of the same name collected by the Brothers Grimm, will be staged on November 28 and 29 at the Vietnam Youth Theatre.
The play will be performed by artists from the Vietnam Youth Theatre and the theatre of the young generation, Dresden, from Germany.
The play is part of the cultural co-operation project between the theatre and the Goethe Institute Hanoi.
German director Dominik Gunther was invited to Vietnam to work with the Vietnam Youth Theatre. This is second co-operation between the theatre and the director. Earlier, the director helped the theatre set up the 'Caucasian Chalk Circle' play, one of the world's masterpieces. The work impressed audiences with a new acting and stage style.
'The Fisherman and His Wife' is the first collaborative project between the Vietnam Youth Theatre and the Dresden theatre. The play promises to be a meaning experience for young audiences in the two cities, Hanoi and Dresden.
The play will draw the participation of Lao Xao band, German artists Stefan Wehrenpfenning and Diethard Krause, and Vietnamese meritorious artist Chi Trung.
Ho Chi Minh City adds five sites to national relic list
The Ho Chi Minh City Monuments Conservation Center has announced the addition of five structures to the list of national relics.
The new batch of national relics includes Binh Tay Market, two communal houses in Tan Son Nhi and Tan Thong Villages, Davis Camp, and Phap Hoa Pagoda.
Binh Tay Market, which sits on District 6's Thap Muoi Street, was built and financially supported by a Chinese businessman named Guoyan, better known as Quach Dam.
Truong Kim Quan, head of the center, said the market features oriental art and includes many motifs reflecting the Cham style.
It is also a hub for trade between the city and the surrounding areas, Quan said, adding that it is home to many products made by Vietnamese people and the Chinese community in the district.
The communal house in Tan Thong Village was built in the 19thcentury in Tan Thong Hoi Commune in Cu Chi, which is an outlying district of Ho Chi Minh City.
This is a venue associated with many local revolutionary movements during the American War in Vietnam.
The communal house in Tan Son Nhi Village, situated on Tan Phu District's Tan Ky Tan Quy Street, is among a few structures that still maintain the overall architecture of a house of the southern region, with a three-door gate, stele, and adytum.
Phap Hoa Pagoda on Phu Nhuan District's Thich Quang Duc Street is considered a historical site since it houses a secret bunker built in 1945 to hide Vietnamese soldiers during the war and a portrait of late President Ho Chi Minh.
Davis Camp, located in Tan Binh District, used to be a unit of the U.S. air force during the war in Vietnam.
It was named by the U.S. to commemorate the first soldier who died in battle in southern Vietnam, James Thomas Davis, according to newswire Vietnamplus.
All five new national relics have been put under special protection.
Incham to hold biggest festival for Indians in Vietnam
The biggest festival for the Indian community in Vietnam, DIWALI 2015, will be hosted by the Indian Business Chamber in Vietnam (INCHAM) at GEM Center in District 1, HCMC on November 14.
According to INCHAM, DIWALI, the festival of lights, will bring joyful moments to participants with Bollywood performances and authentic cuisines from the ethnically diverse Indian sub-continent, free flow of drinks, and exciting raffle prizes to win.
On this occasion, Abhijeet Sawant, the first Indian Idol, will come to Vietnam to perform in the festival. Sawant, together with Desi Swagg duo Danielle Rebello & Silvina Fernandes along with the band, is expected to give a different experience with a gorgeous venue, and electrifying live performances, and to make it an enjoyable and memorable night.
The event is expected to lure one thousand plus guests (expats and Vietnamese), officials from government departments, foreign missions and an association of reputed corporate and business houses in HCMC.
A book fair for painting enthusiasts
A book fair held between November 3 and 8 at the HCMC Exhibition House in District 1 to celebrate the second anniversary of Ca Chep bookstore is a venue for painting lovers as it is displaying painting and photo books and featuring activities related to painting.
Co-organized by Dong A Culture and Comicola, a local company specializing in publishing comics, the Ca Chep fair saw a coloring contest on day one with renowned artists and book designers such as Phan Vu Linh, Ho Hung and Trong Lee attending as judges.By Nguyen Vinh The Saigon Times Daily
Most activities at the book fair are aimed at gathering youths who want to get involved in community book projects by working together in groups and raising funds on social networks, and present products of these projects such as several comic series about Vietnamese history.
On this occasion, Dong A Culture presents the new Vietnamese version of the Sherlock Holmes series.
Teddy bear festival planned at Crescent Mall
A community event called "Teddy bear festival 2015" is set to take place between November 15 and December 15 at the Crescent Mall shopping center in Phu My Hung urban area in HCMC's District 7.
The event is being organized by Phu My Hung Corporation to celebrate the fourth anniversary of Crescent Mall, Nguyen Buu Hoi, deputy general director of the company, told a news briefing on the festival on Wednesday.
With the theme "Hanh trinh se chia," (The journey of sharing), the festival is aimed at encouraging people to express their feelings to their loved ones and unlucky people around.
The festival will comprise two main parts which are Teddy bear exhibition and cultural and entertainment activities. For the exhibition, 35 Teddy bears that are 1.68-1.73 meters tall will be put around the shopping center and the Crescent Lake for visitors to take photos.
On weekdays, staff wearing Teddy bear costumes will give confectionery to children while the ground floor of the Crescent Mall will feature a "Teddy Town" where a collection of Teddy bears of different sizes is displayed and many games with prizes are held for children and their families.
During the weekend, the event will have more activities such as street music performances by both local and foreign singers, outdoor film screenings, and camping with Teddy bears with a number of outdoor activities for families, along with fair featuring 50 stalls of books and souvenirs.
At the opening ceremony on November 15 and the closing ceremony on December 13, the organizer will hold two music feasts with the participation of many renowned singers and artists.
Visitors will be invited to a photo contest in which contestants are required to post their selfies with Teddy bears on the Facebook fanpage of the Crescent Mall shopping center, as well as the dancing contest with Teddy bears.
In addition, for every like of Teddy Bear Festival 2015 fanpage at https://www.facebook.com/teddybearfestival2015/, the organizer will give VND500 to the "Uoc mo cua Thuy" (Thuy's Dream) program of Tuoi Tre newspaper to help disadvantaged children suffering from cancer.
Nguyen Du's legacy in Russian makes debut
The Vietnam Academy of Social Sciences (VASS) and the Ha Tinh provincial People's Committee organised a ceremony on November 6 to debut the Russian version of the legacy of the great poet Nguyen Du – 'Truyen Kieu' (the Tale of Kieu) to celebrate his 250th birthday.
The tale of Kieu was translated into Russian by both Vietnamese and Russian researchers who took part in cultural exchange programmes between Vietnam and Russia over a long period of time, including Dr. Nguyen Huy Hoang, translators Doan Tu Huyen and Vu The Khoi, poet Vasili Popov, Russian Vietnamologist Professor Associate Anatoli Socolov.
The work was translated into Russian under КИЕУ or Стенания стерзанной души from the Vietnamese version by Professor Nguyen Thach Giang starting in 2013.
Dr. Hoang said that translators translated the work's meaning into Russian with the original literary art of the most famous masterpiece of Vietnamese literature, responding to expectations of many Russian translators loving the Tale of Kieu and Vietnamologists.
Buianov expressed his hope that not only the Tale of Kieu but also further Vietnamese literary works would be translated into Russian.
According to VASS Vice President, Professor Dr. Vo Khanh Vinh, the Tale of Kieu has been translated into over 20 different languages with over 30 translated versions. In Russia, the masterpiece was taught and studied at universities.
This version is significant in connecting the two nations' culture, helping Russian readers and people further understand the land and people of Vietnam.
Nguyen Du (1766-1820), also known as To Nhu and Thanh Hien, was recognised by UNESCO as a World Cultural Celebrity among 108 others in 2003.
His most influential work, The Tale of Kieu, is a 3,254-line classic verse novel written in 'luc bat', the form that consists of alternating lines of six and eight syllables, a traditional verse form of Vietnam's poetry.
Kieu's story is vastly popular in Vietnam; many people know the epic by heart and it has been translated into 20 different languages including French, Chinese, English, Russian and Japanese.
VNP+, PEPFAR to run writing contest about people living with HIV/AIDS
Vietnam Network of People Living with HIV/AIDS (VNP+) and the U.S. President's Emergency Plan for AIDS Relief (PEPFAR) will join hands to run a writing contest themed "HIV and you" to change people's awareness about people living with HIV/AIDS and to honor the courage and determination of them.
The contest is open to Vietnamese people and organizations in the country and overseas. Participants are encouraged to write stories about true characters and help improve the lives of people living with HIV/AIDS. Each author or a group of authors can submit as many entries in Vietnamese as possible. The best ten works will be selected to the final round by a judging panel consisting of photographer/head jury Pham Hoai Nam, writer/journalist Duong Binh Nguyen, writer/journalist Hai Mien, actor/scriptwriter Luong Manh Hai and journalist/TV producer Thuy Minh.
There are one first prize worth VND10 million, one second prize worth VND8 million and one third prize worth VND5 million and two consolation prizes worth VND2 million each. The first, second and third prize winners will be translated into English. Deadline for submission is November 20.
Entries with full personal information of participants are advised to send to the southern office of the VNP+ at C5, Unit 108, Khang Gia Condo, Phan Huy Ich Street in HCMC's Go Vap District. Or people can email to [email protected]
The contest is held in response to the action month of HIV/AIDS prevention and control by Vietnam Administration of HIV/AIDS Control and the exhibition "25 years of HIV/AIDS prevention and control" of HCMC Committee of HIV/AIDS Prevention.
VNA/VNS/VOV/SGT/SGGP/TT/TN/Dantri