Viet Nam-Japan trade relations bear fruit
(23-12-2006)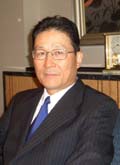 Japanese Ambassador to Viet Nam Norio Hattori. — VNS File Photo
Japan celebrates the birthday of their Emperor today. Viet Nam News spoke to Japan's ambassador to Viet Nam, Norio Hattori, about the ever-growing relationship between the two countries.
What did 2006 bring to Viet Nam-Japan relations? Will there be any changes in Japan's foreign policies towards Viet Nam and other Asian countries in the future?
Japan-Viet Nam relations experienced a qualitative shift in 2006. The two countries elevated their ties to a "Strategic Partnership". In the autumn of 2006, our prime ministers exchanged visits in a short interval of just one month. Prime Minister Nguyen Tan Dung paid an official visit to Japan in October, and Prime Minister Shinzo Abe reciprocated the following month. Our two prime ministers defined our bilateral relations as a "strategic partnership" in the Joint Statement they signed in October in Tokyo. By doing so, they expressed their resolve to strengthen their ties for the peace and prosperity of the entire Asian region. As ambassador of Japan to Viet Nam, I am determined to further invigorate bilateral co-operation over a wide spectrum of areas in accordance with the Joint Statement.
What are the implications of the Viet Nam-Japan Economic Partnership Agreement (EPA), which is expected to start negotiations next month? How will Vietnamese enterprises benefit from the EPA after it is signed?
Japan at a glance
Area: 377,835 sq.km
Population: over 127.4 million
Capital: Tokyo
Language: Japanese
Currency: yen
National Flag: white with a large red disk (representing the sun without rays) in the centre
Japan has been one of Viet Nam's biggest trading partners and, in fact, the biggest trading partner since the beginning of this year. Our bilateral trade in both directions amounted to US$8.5 billion in 2005, and the Joint Statement envisages its increase to the level of $15 billion by 2010. Not only do our two countries trade in big volumes, but our bilateral trade is well-balanced as well. Neither side is running a huge trade deficit or a surplus. The conclusion of an EPA will significantly improve the conditions for bilateral trade and investment, ensure Viet Nam's access to Japanese markets, and accelerate investment from Japan. With Viet Nam joining the WTO, this is the best time to start the EPA negotiations, as the negotiations will be conducted upon the foundations of WTO.
Viet Nam is currently ranked high on the list of markets that are most attractive to Japanese investors. What do you think makes Viet Nam so attractive ?
According to a JBIC survey conducted from July to September, Viet Nam ranks as the third most attractive destination for Japanese manufacturing investment. With its political stability, Viet Nam's economy has been growing at the steady rate of 7-8 per cent every year, presenting itself as a promising market for potential investors. The country is endowed with a hard-working, and yet inexpensive, labour force. However, not everything is rosy. The JBIC survey cites, as major concerns of potential investors, the lack of infra-structure, the lack of clarity in legal applications, and the insufficiency of legal frameworks. Through overcoming these obstacles, Viet Nam needs to translate its generally positive image into actual investment. Fortunately, our two countries have excellent vehicles to address these issues, that is to say (1) ODA to improve the infrastructure and (2) the Japan-Viet Nam Joint Initiative to improve the investment environment. Japan's investment to Viet Nam has been rapidly increasing thanks to these two vehicles. If both sides continue their efforts, Viet Nam will enjoy a greater inflow of foreign investment.
Concerning the development and aid activities of Japan in Viet Nam, where will Japan's focus lie in the future?
Based on the positive development in bilateral relations, the Government of Japan pledged an assistance package of JPY103.9 billion ($886.2 million) at the CG Meeting on December 15. This represents a 3 per cent (JPY3 billion $25.5 million) increase over last year's pledge of JPY100.9 billion ($860.6 million).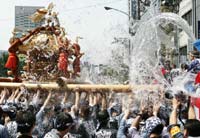 Tens of thousands of enjoy the Fukagawa Hachiman Festival, one of Tokyo's three biggest festivals, which features a parade of 54 portable shrines and four days of festivities. — VNS File Photo
Under the package, Japan will support the upgrading of infrastructure in the fields of transportation, electricity, and telecommunications, HCM City Urban Railways, the Nghi Son Thermo Power Plant and the Internet Use Promotion Project in Rural Communities. As to the three major projects highlighted by Prime Minister Nguyen Tan Dung, North-South Express Railways, North-South Highways and the Hoa Lac High Tech Park, a survey mission will soon be dispatched to study the proposals.
Social development should not be forgotten, either. Japan assists in such areas as education, health and medical care and rural development as well, to improve the living conditions of people across society. Japan also supports the "Development Triangle," which spans the borders of Viet Nam-Cambodia-Laos.
As Viet Nam moves up to a middle-income country status, new challenges will loom large. For example, environmental protection will emerge as a big challenge for the country. Human resource development in high-tech areas will be another task to be addressed. Japan wants to be helpful in those areas too. In fact, we have recently launched a project to utilise ODA to train young people in information technology.
Viet Nam has become a popular destination for Japanese tourists. However, visiting Japan seems to be expensive for Vietnamese due to the high price of airfares and accommodation. Do you have any suggestions to increase the number of Vietnamese visitors to Japan?
With so many similarities between Japan and Viet Nam, Japanese people feel close to Viet Nam. Many of us find Vietnamese food quite palatable. Besides, beautiful handicrafts are attracting many young Japanese women to Viet Nam. According to the Viet Nam National Administration of Tourism, about 320,000 tourists visited Viet Nam from Japan last year, and the figure for the first 11 months of this year already exceeds 340,000. Viet Nam, I am confident, will continue to attract many Japanese tourists in the coming years.
Vietnamese people seem to believe that prices are high in Japan. In fact, they are not so high as commonly believed. I would like to inform Vietnamese people that there exist numerous hotels and restaurants with moderate rates in Japan. Some 16 million Japanese people go abroad every year, only a third of that number or 5 million people visit Japan from abroad. In order to narrow this gap, Japan launched the "Visit Japan Campaign" a few years ago. In order to attract more Vietnamese tourists, Japan intends to provide more information about Japan in Vietnamese. Through such efforts, more Vietnamese people, I hope, will visit Japan in the future. — VNS
Viet Nam-Japan trade relations bear fruit have 1171 words, post on at December 23, 2006. This is cached page on Talk Vietnam. If you want remove this page, please contact us.