VietNamNet Bridge – When the flow of people was moving through a suspension bridge in Son La, suddenly the cable broke, the bridge was tilted, more than 20 people and their vehicles were knocked down into the water.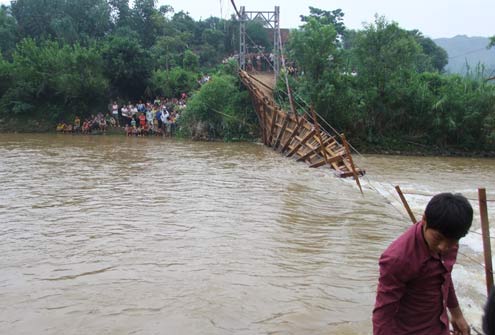 Hearing cries and shouts, local people quickly jumped into the stream to pick up victims and take them to the Phu Yen hospital. Thirteen people were injured due to being hit in the head by springboards, including three who were seriously injured. Eleven motorcycles and two bikes were completely damaged.
The bridge is over 83 m long, with bamboo floor. The bridge was undergoing repair when the accident occurred. The bridge was not yet opened for traffic, but due to heavy rains, causing floods in the stream, many people still used it, making the overload.
The local government is calculating losses caused by the incident to help victims.